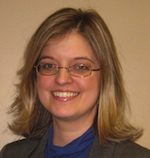 04 Mar 2011

Faulk named vice president for advancement at CBC

Posted at 9:47 AMh

in

News
Sancy (Hutto) Faulk has been named vice president for advancement at Central Baptist College.The action was approved at the Feb. 26 meeting of the CBC board of trustees. Faulk joined Central Baptist College in 2003 as the dean of students and in July 2005 became part of the college's administration when she was promoted to vice president for student services.
"I am excited to have Sancy leading the office of advancement," CBC President Terry Kimbrow said. "She is a proven leader and well respected by her peers, our constituents and in the communities of both Faulkner and Van Buren counties. She has already been involved in several fundraising activities and I look forward to seeing the leadership she will bring to this vital area of the institution."
Faulk earned a bachelor of arts degree in psychology and a master's degree in college student personnel services and administration from the University of Central Arkansas. She was also a member of the UCA Honors College and has since served on the Honors College Alumni Association Executive Council. She has also stayed involved with the College Student Personnel Services and Administration Program, serving as a practicum and internship supervisor, a search committee member for the program coordinator and an alumni representative during program review and strategic planning.
Faulk is also involved in the Arkansas College Personnel Association, previously serving as the board secretary and president-elect. She has also been involved in the Arkansas Council on Student Services, the Arkansas Student Success Symposium and the Arkansas chapter of the National Orientation Directors Association. In 2004 she was named the NASPA Region IV-West Rising Star New Professional.
During her tenure at CBC, traditional student enrollment has grown from 280 (Fall 2004) to 468 (Fall 2010) students, a 67 percent increase, and the division of Student Services has doubled in size. Additionally, Student Health Services have been added, a comprehensive New Student Orientation Program has been developed and Campus Safety and Security Services have been greatly enhanced.
In her new role, Faulk will oversee all fundraising, public relations and admissions operations. She will continue her student services duties, which currently includes giving supervision and leadership to the dean of men, dean of women, office of admissions, office of financial aid, campus security, health services, campus counseling and dining services. Her transition to VP for Advancement will take place over a period of months.
Faulk's community involvement includes serving on the school board of her alma mater, South Side Bee Branch School District. She is an advisory board member of the Red Cross of Greater Arkansas Faulkner County Service Center. She is also a member of the Conway Noon Rotary Club and a member of the 2011 class of the Faulkner County Leadership Institute. In addition, she works with the pre-school children at South Side Baptist Church, where she is a member. Sancy is married to Travis Faulk. They have a 5-year-old son, Layne.