08 Sep 2021

Farnam ready to lead Perryville to post-season success

By Levi Gilbert

Garrett Farnam and the Perryville Mustangs have made the playoffs the past two seasons, but one thing has remained elusive — a post-season victory. Farnam is working to put an end to that this fall.

"It has been a while since our team has won a playoff game, so that is first on our agenda," Farnam said. "We plan to go deep into the playoffs this season, so we will work hard to get to that point."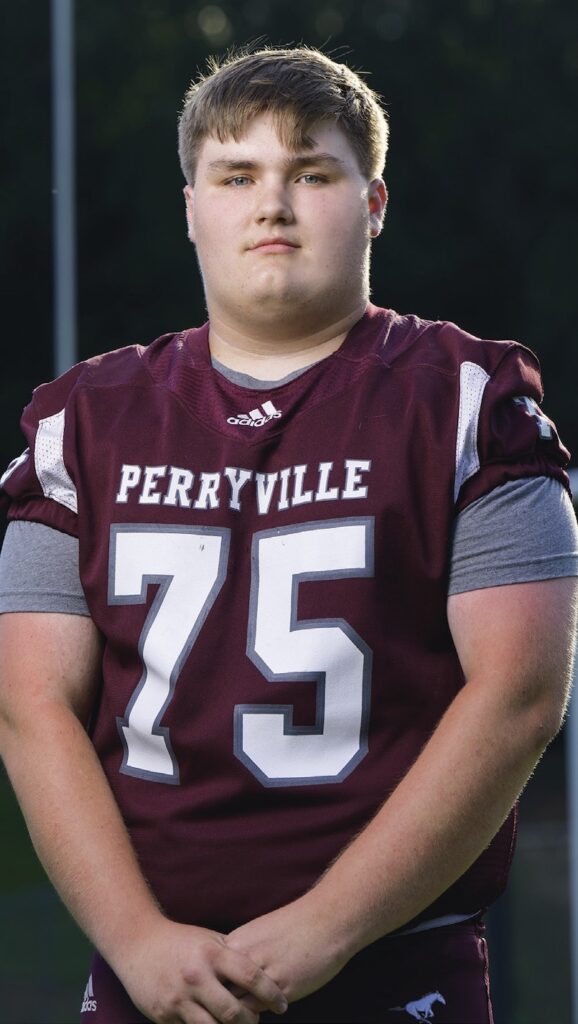 As a junior last season, Farnam started all 11 games at left guard, earning all-state and all-conference honors.
"He is a quick study and knows our offense backward and forward," said Perryville Head Coach Chris Norton. "Garrett is a strong, physical presence in the middle of our offensive line. He'll enter his senior year with 21 career starts under his belt and is a leader for our program. He is one of the strongest student-athletes we have at Perryville, and that strength shows up along our offensive line. He is a high effort, high intensity guy. Garrett currently has a 4.0 GPA and a 27 on his ACT. He is an intelligent young man who is driven to succeed post-high school.
"I expect Garrett to put together an all-state caliber season as a senior. He will anchor our offensive line and will lead one of the most experienced Perryville teams in years. We've already fielded several calls from college coaches on Garrett, and I believe he will continue his high level of play on the college level after another outstanding season."
Farnam was selected to this year's 501 Football Team — 23 players representing all 11 counties of the 501. The team, sponsored by Conway Regional Health System, First Security Bank, Moix Equipment & Toy Company and Velda Lueders Coldwell Banker RPM Group, boasts the best the 501 has to offer both on and off the field. The senior was nominated by Norton.
"Garrett is honest, and his peers know they can trust both his words and actions," Norton said. "He is friendly and helpful, but also willing to help establish and maintain expectations for how we should carry ourselves on the field and in the classroom. He's levelheaded, sincere and consistent. He is also active with our youth camp in the summer and a booster club volunteer during basketball and baseball seasons, helping run our concession stands. He is a tremendous representative of our school and football program."
Farnam and the Mustangs (1-0) take on Perry County rival Bigelow this week. It's a week where records and expectations go straight out the window.
"I want the opponents to say after the game, 'Man, that number 75 is pretty good,'" Farnam said.
Farnam also participates in Beta Club, Future Business Leaders of America and Film Club at Perryville High School. After high school, he plans to pursue a degree in the medical field.
"Unless you are a literal beast of a football player, you should always put academics above sports," Farnam said. "Not everyone will play football after high school, but everyone can and will benefit by getting an education and can use it to better their life in the long run."
Farnam and the Mustangs play host to Bigelow at 7 p.m. Friday, Sept. 10.

Latest posts by Levi GIlbert
(see all)