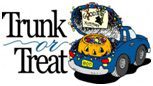 18 Oct 2011

'Family Halloween Night' planned Oct. 28

Posted at 7:35 PMh

in

News

"Family Halloween Night" – complete with trick or treating and a movie – is planned Friday, Oct. 28, at The Village at Hendrix in Conway.


Young people will have an opportunity to "Trunk or Treat" from 5-7 p.m. on McKennon Street (next to Panera Bread). Presented by the Christian Car Club of Conway, the event will also include an inflatable bounce house and a disc jockey. Kids are encouraged to wear their Halloween costume. Businesses that would like to participate – for free – should contact Beth Tyler at [email protected].


Soaring Wings Ranch will present "Kids Run for Kids" at 6 p.m. on Market Square. There is no fee to enter.

Event T-shirts are $10 each. To register, visit www.swhalf.com.


Silver Moon Cinema will present "Harry Potter and the Deathly Hallows Part II" at 7:15 p.m. on Market Square. Admission is a $1 donation to Soaring Wings Ranch. Those attending are encouraged to bring a blanket or chair.