01 Dec

Fairfield Bay plans holiday events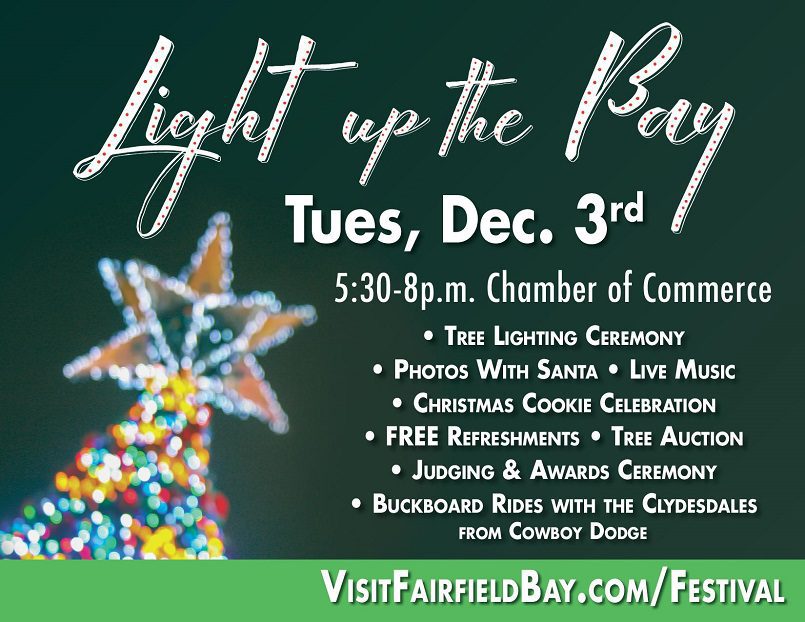 The Light Up the Bay holiday celebration will be held from 5:30 to 8 p.m. Tuesday, Dec. 3, at the Fairfield Bay Chamber of Commerce. 
Fairfield Bay will become a winter wonderland complete with all kinds of treats and activities, including a tree lighting, Santa photos, music, refreshments and buckboard rides with Clydesdales. 
The Festival of Trees will continue through Saturday, Dec. 14, at the chamber. It will feature a collection of beautifully decorated trees to admire – each unique and beyond imagination, and sure to put those attend in the holiday spirit.
"When we 'ight up the Bay this year, our town will become a magical place," said Fairfield Bay Chamber of Commerce Director Jackie Sikes. "We'll have Christmas treats, live music and Santa has said he's going to make an appearance too!" 
A magical forest of trees
The evening kicks off at 5:30 Tuesday with the lighting of the trees. So many to see – decorated with ribbons, bows, lights and ornaments, all created by local groups in the Bay.  
Come cast your vote for your favorite. Beginning at 5:45, the tree auction will begin and go until 7:45, when awards will be given for first, second and third place trees, and winners of the auctioned trees will be announced. 
Old-fashioned buckboard ride
Experience a true, wintertime treat with an old-fashioned buckboard ride with the Clydesdales from Cowboy Dodge. Bundle up and enjoy a ride through downtown, marveling at the lights and decorations of the season.
Christmas cookie celebration
Have fun selecting and filling a box with an assortment of cookies. Sales begin at 5:45 – and only $5 a box. Eat some while you enjoy a cup of hot cocoa and stroll through all the trees, listening to the beautiful sounds of holiday music.  
Funds raised through this event will help fund Chamber programs and events in the Bay.
Don't forget the music
Caroling begins at 5:30 as organizers light up all the trees for the season. Choirs from local churches as well as individuals will perform favorite holiday tunes.
Experience the holidays in the Bay
With so much to do and see, Fairfield Bay is the go-to place to start your holiday season. Come play in a magical winter wonderland and see why Fairfield Bay is the ideal place to live, work and play.
For more information, go to visitfairfieldbay.com/festival.