15 Apr 2012

'Exciting time' with new high school; Foundation plans July preview party

Posted at 8:29 PMh

in

News

by Sonja J. Keith


The Conway Public Schools Foundation got a sneak peek at the new Conway High School that is being built and is expected to be completed in time for the start of school in August.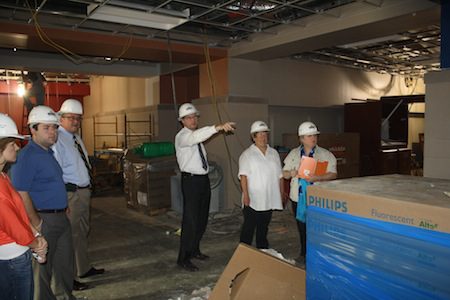 "It is an exciting time in Conway as we watch our new high school under construction," said Conway School District Superintendent Dr. Greg Murry. "Phase 1 will be completed in time for the 2012 school year in August and I know everyone is excited to see the inside.

The three-story structure, 165,000-square-foot school will feature 10 science labs, eight special needs classrooms, four art classrooms and six computer labs. The building will also house administration offices and a lecture hall that will seat three classrooms of students.

"Nabholz Construction and our architects, WER, have been working very hard to deliver the building on-time," Murry said.

While crews work to ready the building, school district employees have also been busy with preparations.
"Our district maintenance and purchasing departments are gearing up for a very busy summer," Murry said. "Our administrative team is working through logistics. Our teachers are getting ready to pack up for the big move.

"Our students can't stop talking about being in the new building. It's an honor to be here in Conway during such an historic time."
Foundation members are planning their own sneak peek for the community as a fundraiser for the organization. Murry led a tour of the new construction to help foundation members in planning for the Sneak Peek Preview Party, scheduled Thursday, July 19.

Board members include president Jan Spann, vice president Arch Jones, secretary Margaret West, treasurer Beau Wilcox, Rosemary Adlong, Ben Bakker, Susan DeBoard, Sue Farris, Jeff Matthews, Penny McCray, Greg Sanson and Karen Walker. Ex-officio members are Murry, Susan McNabb, Bernard Coleman, Wendy Holbrook and Julie LaRue. McNabb is chairman of the preview party.

"This new building is the physical presence of the great things happening inside. From academic and athletic achievements to recognition for outstanding teachers and programs, Conway Public Schools ranks at the top in Arkansas K-12 education," Spann said.

The foundation's mission is to help teachers help students. Proceeds from the event will be used to build an endowment large enough to fund teacher grants.

Sponsors are being sought for the fundraising event. For more information on the event, contact Spann at 501.339.7544 or [email protected].

Mike Armstrong is project manager and JR Weise is the project superintendent.

The design also features a 7,400-square foot media center and 27,000-square-foot dining hall with a covered outdoor seating area. The school will be equipped with state-of-the-art security and communication systems.

Plans also call for covered walkways and a landscaped courtyard with seating.

"Conway has been very supportive of this major facelift to our high school campus," Murry said. "We look forward to our students, teachers, parents, and patrons walking through the completed project next school year."