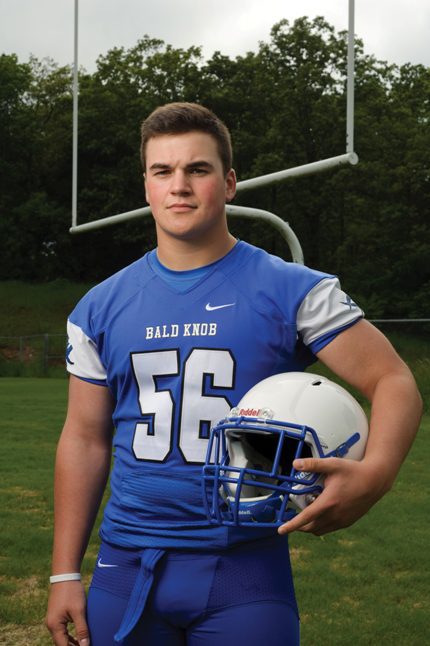 30 Sep 2015

Evans, Bulldogs eye 2-3A crown

by Levi Gilbert


The Bald Knob Bulldogs started the season winless in non-conference play. But the Bulldogs showed no fear heading into 2-3A play last week, beating Perryville 42-12 on the road. Bald Knob remained calm and steady behind the senior leadership of Hayden Evans.


Evans, an offensive and defensive lineman for Bald Knob, was selected to this year's 501 Football Team — 27 players representing all 11 counties of the 501. The team boasts the best the 501 has to offer both on and off the field. Evans was nominated by his head coach, Randy Johnston.


"On the field, Hayden is a great leader," Johnston wrote in his nomination. "He's always positive with his teammates. Off the field, Hayden is dependable. You can count on him to do the right thing in tough situations.


"Last season he was one of the leading tacklers on defense. I expect Hayden will play a big role for us this year on defense. He's also a three-year starter on the offensive line."


Evans made all-state as a junior for Bald Knob and has been playing football since the second grade. He was slated to start the season at left guard and linebacker, but has recently shifted down to the defensive line at end.


"We just need to be the best team we can be," Evans said. "We have a lot of guys working hard. Every single one of us is working hard and wants to be conference champions. I'm excited to play Harding Academy and Mayflower. I think we'll be the Top 3 teams in the conference this year.


"For personal goals, I made all-state last year and would love to do that again, but overall I just want to get better. I was hurt my 10th-grade year. I sprained my ACL and was out for four weeks. It was hard coming back from that. The hardest thing for me is just being out and not being able to be getting better or be in the weight room. It's tougher mentally than anything."


Evans plays a big role on both sides of the ball for the Bulldogs, but the senior plays an equally important role in the classroom and community. Evans is president of the student council at Bald Knob and maintains a 4.0 GPA. Evans is also involved with his youth group at Highway Church of Christ in Judsonia. Evans also provides depth on the Bulldog baseball team, playing a variety of positions as needed — third base, first base, right field and pitcher.


Bald Knob hosts its first home conference game this Friday when Rose Bud comes to town. Evans and the Bulldogs are looking to move to 2-0 in 2-3A play.