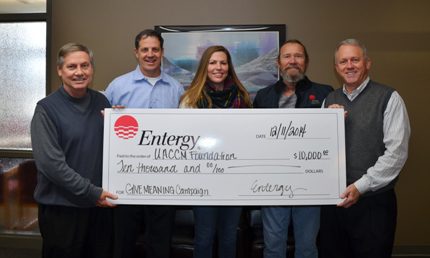 02 Mar 2015

Entergy awards $10,000 grant to UACCM

Posted at 11:47 AMh

in

News

Entergy has awarded a $10,000 grant to the University of Arkansas Community College at Morrilton Foundation "Give Meaning" campaign to support a new Workforce Training Center at UACCM as well as scholarships and academic programs.

The award is part of the Entergy Charitable Foundation's grant program whose goal is to support initiatives that help create and sustain thriving communities. ECF has a special focus on low-income initiatives as well as educational and literacy programs.


"We're grateful for the continued support of Entergy and the Entergy Charitable Foundation," said UACCM Foundation Chair Doug Cahill. "It is through funding opportunities like this that the UACCM Foundation will make the Workforce Training Center a reality in the near future."


The estimated 70,000-square-feet Workforce Training Center at UACCM will house many of the college's existing technical programs including automotive service technology; automotive collision repair technology; and heating, air conditioning and refrigeration technology. Also to be included in the $13 million facility is a proposed diesel mechanics program and a new industrial mechanics and maintenance technology program which includes many classes in the petroleum technology plan of study.


In addition to technical programs, an open space for workforce training will be included in the facility for use in recruiting new industry to the area as well as assisting current industry with workforce development needs.


Also included in the "Give Meaning" campaign are efforts to launch a $1 million scholarship endowment fund. It will help relieve the financial burden on the college's budget due to scholarships, providing support for a greater number of students in need of financial assistance.


For more information about the "Give Meaning" campaign including ways to support the fundraising efforts, visit uaccm.edu/GiveToUACCM, or contact UACCM Development Officer Morgan Zimmerman at 501.977.2085 or [email protected].