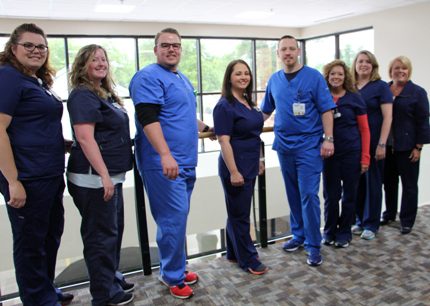 23 Jun 2017

Eight from Conway Regional recognized in top 40 under 40

Posted at 11:22 AMh

in

News

Eight Conway Regional Health System nurses have been named to the Arkansas Center for Nursing's 40 Nurse Leaders Under 40 program. The program honors emerging nurse leaders in the state who are under 40 years of age.


The 40 honorees were selected utilizing criteria on how each applicant stood out among their peers in four distinctive areas: commitment to excellence, service/outreach, leadership qualities and their contributions to the advancement of the nursing profession. The honorees were recognized June 23 in Little Rock.


"It is my privilege to work alongside such an outstanding group of nurses. These eight, as well as many others at Conway Regional, put so much of themselves into how we care for patients," said Angie Longing, chief nursing officer at Conway Regional Health System. "These nurses are being recognized for their leadership abilities as well as for the compassion they show our patients and their love of the profession of nursing."


• Amber Ledbetter of Conway, RN, Labor and Delivery, has worked in nursing for Conway Regional for nearly 10 years. Ledbetter said, "Nursing is a true calling. It has helped me grow as an individual and has molded me into the person I am today. I like knowing I can make a difference in my patient's lives."


• Eryn Zimmerebner of Conway, RN, Oncology, has been a nurse at Conway Regional for more than eight years. "Nursing allows me to care for someone when they are weak. It allows me to help people, which is what I have always enjoyed," said Zimmerebner.


• Tilli Watson of Conway, RN, Educational Resources. "Nursing is a versatile and ever-changing profession that is people centered. Nursing enables you to make a connection with the family and the patient. The impact that nursing has on the community; it touches everyone's life in some fashion," said Watson.


• Lisa Speer of Conway, RN, is a charge nurse who has worked in Labor and Delivery at Conway Regional for 11 years. "Being a part of bringing a new life into the world is one of the most amazing and rewarding experiences. I am proud to say I am a nurse at Conway Regional."


• Annette Gartman of Wooster, RN, 4 North, has worked at Conway Regional for almost five years. She said, "Nursing is so important because we care for our community members in their time of need. Nurses touch people from the very beginning of their lives and in the very end."


• Derek Carter of Conway, RN, Emergency Department, has been a nurse at Conway Regional since 2010. "I like that every day is a little different, especially in the ER- different patients, different situations and different outcomes," said Carter. "The majority of patients come to the ER sick, hurt and scared. Seeing them go from that to stable with a good prognosis is a great feeling. It gives you a sense of purpose and really connects you with patients, their families and coworkers."


• Michael Henry of Conway, RN, Emergency Department, joined Conway Regional in 2009. Carter said, "As an emergency department nurse, I get the opportunity to assist in the care of the acutely ill and injured. I have the chance to positively impact patients on their 'worst' days."


• Shaana Escobar of Russellville, RN, first joined Conway Regional in 2007 and works as a pool nurse for Labor and Delivery. She has taught nursing classes at Arkansas Tech University for the past five years. "As a labor and delivery nurse, my favorite thing about nursing is that I get to be there for the most important day of most people's lives. I love that one-on-one connection with patients."


Sindee Morse, RN, an Informatics Clinical Analyst Nurse at Conway Regional, is chairing the event for the Arkansas Center for Nursing.