12 Jan 2022

DeSalvo serves as 'tremendous asset' for Red Hawks

By Levi Gilbert

Whether on the court or on the farm, Benjamin DeSalvo doesn't shy away from putting in the work. The senior point guard has high hopes for his final campaign with Nemo Vista.

"My main goal is to not only work on myself playing the 1 through 5, but also helping out our sophomore guards who will end up being the future of the program at Nemo Vista," DeSalvo said. "Our team's expectation is to make it to the state tournament. We will achieve this by not worrying about personal accolades, but by focusing on what the team needs."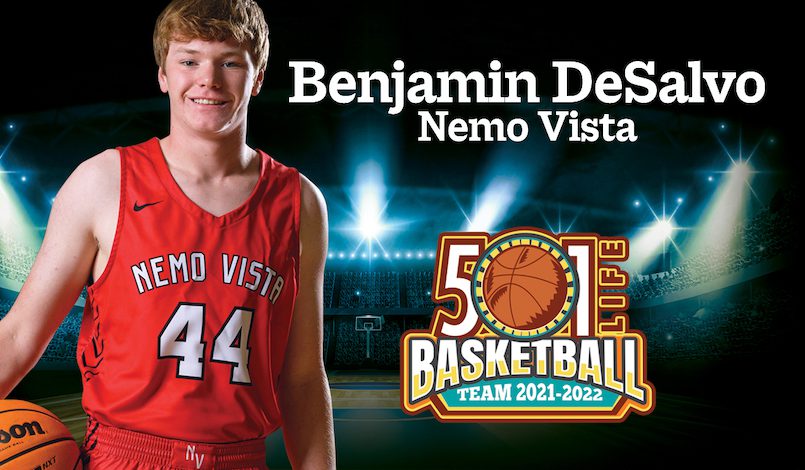 DeSalvo was selected to this year's 501 Basketball Team — 40 players representing the best the 501 has to offer both on and off the court. The team is sponsored by Conway Regional Health System, First Security Bank, Velda Luders of Coldwell Banker RPM Group and Moix Equipment and Toy Company. The senior was nominated by his head coach, Aaron Thomas.
"Ben is an athletic guard who plays extremely hard," Thomas said. "He makes his biggest impact on the game on the defensive end. Ben guards the other team's best perimeter player and is a tremendous asset. Ben was the starting point guard last year and played his role very well. I expect Ben to have a very productive year and represent our district with tremendous class."
The Red Hawks (8-11, 4-4) are coming off a loss at cross-county rival Wonderview on Tuesday, and face another 1A-4 rival foe Tuesday in Mt. Vernon-Enola. Nemo Vista lost to Mt. Vernon-Enola back in December by just two points.
"My favorite memories would have to consist of all the county rivalry games," DeSalvo said. "There is just something different about the amount of passion that is put in the game when you are playing against a team when you know everyone that is on it. My favorite thing about basketball would have to be my teammates. It has always been the same group of guys that have played, so we are family."
After basketball, DeSalvo will pick up baseball for the Red Hawks. When he's not playing sports, he's typically working on the family farm or hunting or fishing. He's active in the Arkansas Cattlemen's Association and St. Joseph's Catholic Church in Center Ridge. After high school, he will pursue a bachelor's degree in pre-veterinarian medicine.
"Eventually, I plan on coming back to the family farm and continuing what future generations before me had accomplished," DeSalvo said.
Beyond athletics at Nemo Vista, DeSalvo participates in Future Farmers of America, Beta Club and Gifted and Talented. 
Nemo Vista plays host to Mt. Vernon-Enola in 1A-4 conference play at 7 p.m. on Tuesday, Jan. 18.

Latest posts by Levi GIlbert
(see all)