23 Feb 2022

Daniel provides 'uplifting' presence for Searcy

By Levi Gilbert

It's been a challenging sophomore season in the win column for Sara Daniel, but she's staying positive for her Searcy Lady Lion teammates.

"The relationships I make with my coaches and teammates are my favorite thing about basketball," Daniel said. "I have met so many great people through basketball going to team camps with my school team in the summer. I have had the best memories going to AAU tournaments."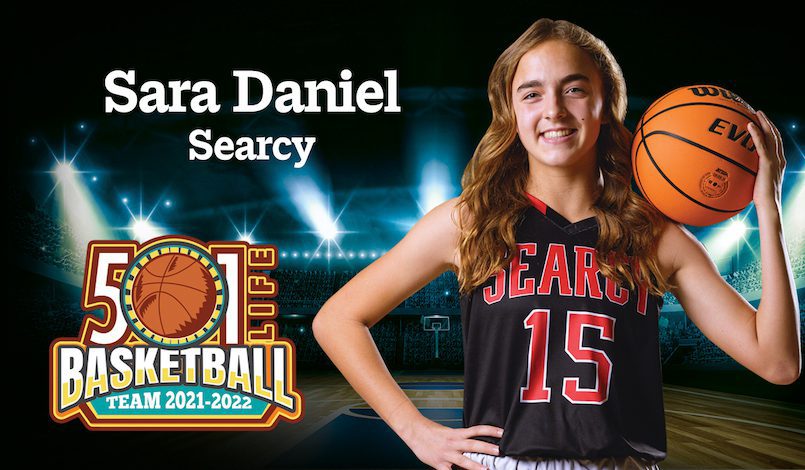 The Searcy Lady Lions are working to build a program of success, and Daniel is the type of underclassmen that they can build around and upon.
Daniel was selected to this year's 501 Basketball Team — 40 players representing the best the 501 has to offer both on and off the court. The team is sponsored by Velda Luders of Coldwell Banker RPM Group, Moix Equipment and Toy Company, Conway Regional Health System and First Security Bank.
"Sara is kind, hardworking and focused," Searcy Head Coach Kim Sitzmann said. "Sara plays with such tenacity. She is very determined and does it all to help lead her team. Sara is very unselfish. She also doesn't mind doing the grunt work. She is uplifting to her teammates as well.
"For a sophomore, she is already doing a great job. We expect her to continue to put the team above herself, maintain her efforts of doing it all on both ends of the court and to have fun."
With the regular season finale looming for the Lady Lions, Daniel is still working toward her goals for her sophomore season.
"I'm working to play more consistently in games and to become more of a team leader," Daniel said. "I want to be someone that my teammates and coach can count on during games."
Daniel is a multi-sport athlete for Searcy. In addition to basketball, she is active in soccer, volleyball and cross country for the Lady Lions. She is also involved in Fellowship of Christian Athletes and attends First United Methodist Church in Searcy. Daniel is just as committed in the classroom.
"Sara is kind to everyone, attends class and makes great grades," Sitzmann said. "She is currently holding a 4.0 GPA."
Daniel and the Lady Lions close out the regular season playing host to Nettleton. The game is currently scheduled for 6 p.m. Friday, Feb. 25, but could be postponed due to inclement weather.

Latest posts by Levi GIlbert
(see all)