Apr 26, 2019

Culinary art: Baker 'takes the cake' top prize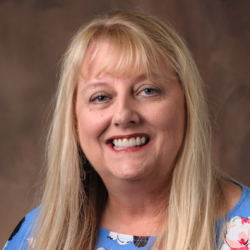 Latest posts by Sonja Keith
(see all)
Story and photos
by Sonja J. Keith
Karon Reynolds' creativity and talent "took the cake" at a recent national contest. Actually, she created the top prize winner at That Takes the Cake Show in Austin, Texas.
The competition, sponsored by Capital Confectioners, had more than 300 entries in four scoring categories. Although it was Karon's first competition, her two entries did quite well.
Her 28-inch creation titled The Mighty Buffalo garnered several honors: platinum score, first place overall; sculpted showpiece – individual; and overall best showpiece winner – individual. 
In addition, Karon's second entry – titled The Grain Rattler – received a platinum score, third place overall and was named the Adult Advanced Special Technique not on a Cake People's Choice Award Winner.
Karon has worked full-time about the last 12 years as a nurse in the emergency department at Conway Regional Medical Center. She and her husband, Mike, live in the Shady Grove community and have a sheep farm.
About 23 years ago, Karon took her first cake decorating class but didn't really bake and decorate a lot of cakes. "I pittled with it early on," she said, explaining that most of her creations were birthday cakes.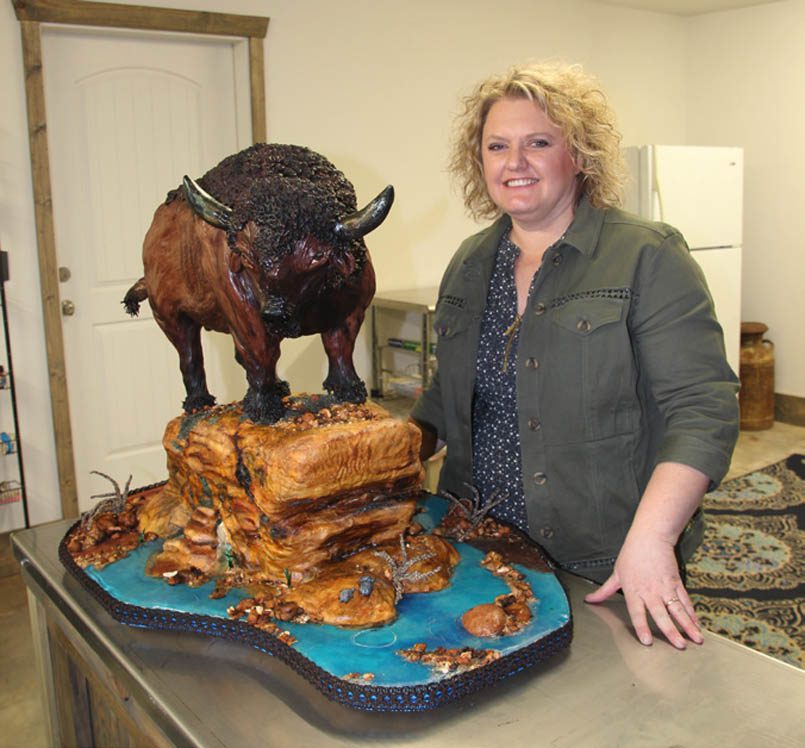 That changed three years ago when her nephew asked if she would create a cake decorated like a turkey as a groom's cake. She also found on social media a big community of bakers and cake artists, which made it more intriguing. "I discovered a different world of cake decorating."
Karon enrolled in a few classes taught by Natalie Madison in Little Rock, who she describes as "one of the cake people in Arkansas." Natalie has a baking supply store in addition to teaching.
"Art is in cake."
Karon learned from classmates that there were cake shows where bakers competed for prizes. She decided to compete in the Austin show, which had a theme of "Wild, Wild West," to help gauge her skills against others. She said entries are judged and ranked from bronze, silver and gold to platinum. She was hoping to come home with a silver. 
"That was my first big piece," she said of The Mighty Buffalo. "Looking back, I would do it much different but I had fun."
Karon began construction on her cake at her home studio in mid-January and worked on her creations as time allowed. She estimated it probably would've taken her two weeks to complete them had she worked on them all the time. The cakes traveled well as they were transported the end of February to Austin for the show. She used different materials to help ensure it made the trip intact. A co-worker, Lauren Morganstern, accompanied on the trip.
While working on the buffalo at home, Karon said she discovered that she had inadvertently entered in a category that included cake professionals. "I realized I had entered against the big dogs," she said, explaining why she started her second cake. "The snake gave me some backup."
In the division that the buffalo cake competed, the cake had to be big enough to feed at least 100 people and a minimum of 24 inches tall. It also had to be a carved cake. 
In researching a design for her cake, Karon came across the buffalo. "He was a real symbol of the West," she said. "I like to do animals."
The buffalo creation includes cake, Rice Krispies, fondant and modeling chocolate. She also used sugar to create some of the special features, including the water. She estimates the cake weighs about 150 pounds, with a lot of weight in the board and hardware. It is the largest piece she has ever undertaken and estimates it took more than 100 hours to make.
For the rattlesnake cake, Karon used modeling chocolate and Rice Krispies for the base and used tweezers to place individual oatmeal flakes to create the realistic looking skin. "I stayed awake almost 24 hours to complete it," she said, adding that she estimates it took about 60 hours to complete it. "He just kept looking so good, I had to keep going." If it was fully extended, the snake would be between 3 and 4 feet long. The rattle was created with pulled sugar.
"He was fun to make," she said, adding that with the materials she used he will last a long time.
Karon gives special attention to the details in her cakes, like the snake's skin and the buffalo's textured hair. "I think it makes it more realistic."
In Austin, when she delivered the buffalo cake to the show, Karon thought he measured up well. "I thought, 'He doesn't look out of place.'" On the following day, Karon returned to the show to find out how her creations how scored. When she checked on the rattlesnake cake, she thought the color of its card was silver, but a friend questioned if that was right. "She said, 'That's not silver.'" The card in front of her buffalo cake also had a rainbow sheen, which indicated both creations had been ranked platinum.
"I had won that day already," Karon said. "It was way more than I expected."
When all the results were announced, Karon learned The Mighty Buffalo had won overall best showpiece. The entries are completely anonymous until after the judging. "You don't know who you are competing against." Her prizes included two glass cake plates, a crystal dome, medals and baking supplies.
In addition to competing, Karon participated in other activities at the cake show. "I wanted to be a part of all of it."
Karon is already making plans for her next competition, which will be in July at a cake show in St. Louis. The theme is "Dark Chocolate Forrest." She will also participate in a show this summer in Little Rock, but does not plan to compete. A request has been made to display The Mighty Buffalo at the show. She said the cake may need some minor work but she is optimistic that he will last awhile.
In the meantime, Karon continues to bake cakes – primarily for birthdays and weddings – in her home studio. She calls her business Pin Oak Cake Co. Her cake decorating supplies started out in a small box in her pantry and today she has a spacious room devoted to baking. Her husband sometimes helps her with the structure for her cakes.
Karon said she puts as much effort in the flavors of her cakes as the decoration, and enjoys people reacting to her creations.
"I want cakes to taste as good as they look," she said. "I love it when people look at a cake and say, 'That's really a cake?'"
Karon really enjoys creating the showpiece cakes. She enjoys the art aspect of her creations and said she may try ice sculpting one day. "This is my passion, the big sculpture pieces. I like to carve and I like to sculpt."
If she decides to return to the Austin show next year, the theme is "Greek Mythology." In the meantime, Karon has fond memories of her first show. "I kind of jumped in and went for it, and had a great time."