27 Aug

County fair time in the 501

Story and photos
by Linda Henderson

How did it get to be September so fast? It seems like the summer just arrived. School has started and kids are getting their first homework assignments. It will not be long until days become a little shorter.

Now sunsets will come a little earlier and fall breezes will start blowing in from the north and it is time for county fairs to begin in the 501. Soon across the 501, county fairgrounds will open their gates. The practice of yearly exhibiting the equipment, animals, sports and recreation associated with agriculture and animal husbandry has taken place for many years in cities and small towns across America. Even though many living in the 501 no longer participate in farming, county fairs are still a part of our history and heritage.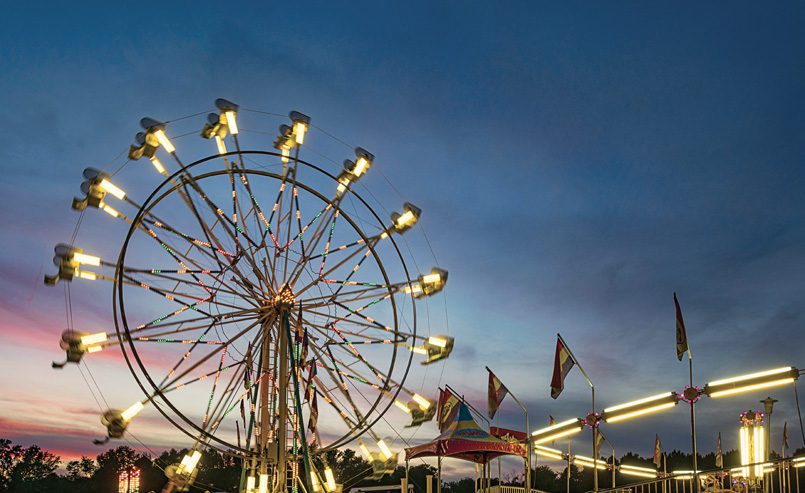 County fairs are a place where people of all ethnic groups can gather to gawk at cows, steers, chickens, turkeys, sheep, pigs, rabbits, lambs, goats and donkeys and eat virtually anything on a stick.   
FAIR FOOD
In my opinion, there are four reasons to gather up the family and head for the county fairgrounds. The first reason is the food. Fair food only comes once a year so not too much damage will be done to your cardiac arteries. Food stalls and trailers are numerous at the local county fair. The selection can be from classic to the outright strange. Corn dogs, a perfect walk-around food, are likely the most consumed fair food – a frankfurter on a stick dipped into a sweet cornmeal batter and fried to a golden perfection.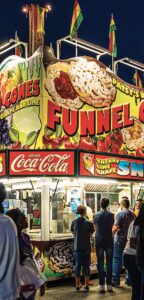 Another not so easy to eat treat is a funnel cake. Funnel cakes are spiral sweet dough fired and topped with sticky powdered sugar. Favored by children of all ages, cotton candy is a spun flavored hot sugar on a stick that can be found in many fair stands. It is nothing but pure delight, light as air, magical fluffy empty calories.  
One of my personal favorites is the candy apple found along the midway. It does have some redeeming qualities such as it's a fruit and it is not fried, but it is covered with a hard candy glaze or topped with a golden sticky caramel. Then there are the assortments of deep-fried stuff…pickles, Twinkies, Oreos, ice cream, burgers, chocolate-covered bacon, cheese and chicken. Most of the deep-fried fare is on a stick so plates or utensils are not required.  
MIDWAY
The second reason to attend the fair is the midway. Even if you are not keen on the heart-pounding, scream-inducing carnival rides, the midway is a fun place to sit back and do a little people watching. I love seeing families creating memories for their children on the kiddie rides and young couples riding spinning rides together on their first date. The colors found in the carnival games booths and sound of carnies pushing their games is a part of the yearly fair experience.  
ANIMALS
The third reason to attend the fair is the quality farm animals raised by 4-H and Future Farmers of America members. Walking though the barns you see the young farmers tending and caring for their animals. You get to enjoy the result of their hard work. Not only have they worked for sometimes years breeding a quality animal, they have spent hours feeding, cleaning and training their animals.  
EXHIBITS
The fourth reason to attend the fair is the exhibits. Where else can you find displays of quality crafts, food preparations, textiles, home accessories and art produced by all different age groups displayed and awarded with ribbons and acknowledgements? 
For all these reasons and many more, I love a county fair. Once a year, we get to attend an assembly of carnival rides and livestock, and eat way too much fried food. A fair can be noisy, dusty and crowded.   But, it is a fall ritual, a celebration of our past and an acknowledgement of the accomplishment of our young farmers. So pile the family into the car and head out to enjoy a distinctive American tradition – the county fair.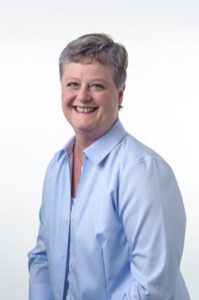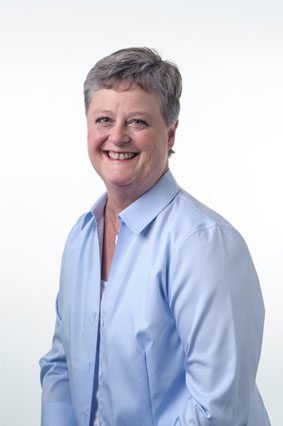 Linda Henderson
Linda Henderson is a lifelong resident of the 501. During the week, Linda is a registered nurse at the Conway Human Development Center. On the weekends, she and her husband, Jim, travel the 501 and other areas of Arkansas. Jim drives and hauls equipment. Linda takes photographs of Arkansas. During their travels, they have gained appreciation and love for The Natural State. They have found the 501 has so much to offer for weekend fun and beauty to photograph.