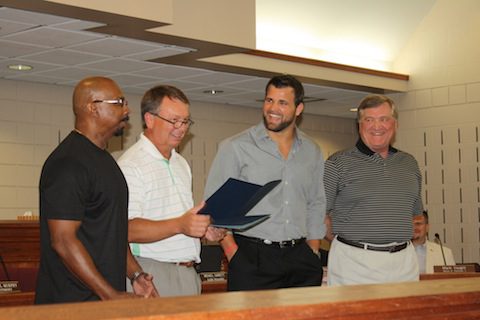 26 Jul

Council names 'Peyton Hillis Field'

The City of Conway surprised Conway native Peyton Hillis with a special honor Tuesday night, recognizing where the journey began for the NFL standout.


The Conway City Council unanimously approved a resolution naming the Conway Optimist Youth Football Field at Curtis Walker Park as the "Peyton Hillis Field."

Hillis played in the fifth and sixth grades for the Curtis Cowboys, coached by Theodore Jones, who is now a city alderman and made the motion to approve the resolution.


The resolution noted that Hillis began his football career in the Conway Optimist youth league and listed some of his accomplishments:
A Parade All-American at Conway High School where he rushed for 2,631 yards and 29 touchdowns as a senior in 2003.

A starter for the Arkansas Razorbacks from 2004-2007.

A seventh round pick in the 2008 NFL draft.

Selected by fans to appear on the cover of the prestigious Madden 2012 video game.

Hillis rushed for 1,177 yards and 11 touchdowns last season with the Cleveland Browns establishing himself as one of the best running backs in the NFL.