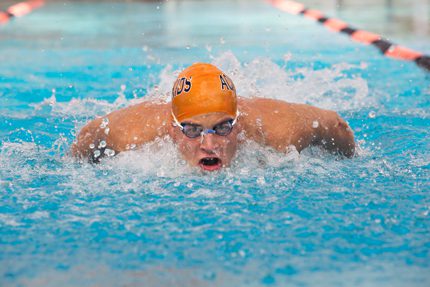 21 Dec 2012

Conway's Tyler Crosson commits to LSU

by Mark Oliver


On Oct. 22, Conway senior Tyler Crosson took the next step in his academic and athletic career, signing a letter of intent to swim for Louisiana State University.
"I began speaking to LSU in late October of my junior year," Crosson said. "I created a pretty good relationship with the coaching staff through regularly e-mailing back and forth. [In summer 2012] the school invited me to come to Baton Rouge on a recruiting trip to visit the school, meet the team and get a great feel of the atmosphere of LSU and the life of an athlete at Louisiana State."

Although he had been offered recruiting trips by six schools and he visited two others on his collegiate hunt, Crosson finally decided that LSU best suited his goals.

"LSU had an atmosphere among the entire school for athletics that was unmatched by other schools, and the drive and energy of the swim team was also unmatched by other schools," Crosson said. "I had a great time [on my recruiting trip] and really enjoyed the swimmers and the coaching staff. I had a very strong feeling on my trip that Louisiana was going to be the best fit for me."

A fan of his architecture class at Conway High, Crosson plans to pursue a major in construction management at LSU.

"LSU is one of the few schools that offers construction management as a major, and that made the choice of college very logical as it offered me the best situation to create the post-collegiate future that I desire," Crosson said.

Although he will also be a member of the school's swim team, Crosson recognizes the importance of keeping his grades up and maintaining the balance between academics and athletics.

"My motivation for getting good grades is definitely my drive that I have in all aspects of life to succeed and give my full effort," Crosson said.

"I take school very seriously and my grades very seriously as I will have to be successful in both the classroom and the pool in college. School always comes before swim as I will have to use my college education for the rest of my life, and creating a drive for success in high school will make that drive for good grades come more naturally."

Recently, Crosson received the Scholastic All-American award for maintaining at least a 3.5 GPA and obtaining a qualification time around Junior Nationals.

Crosson is one of four Arkansan athletes, one of 1,226 nationally, to receive the honor.

"It is a great honor to receive an award like this," Crosson said.

"It is an honor to also be recognized for my efforts in the classroom. So much of what athletes do goes unseen unless it is at a sporting event, so I am thoroughly thankful for being recognized."