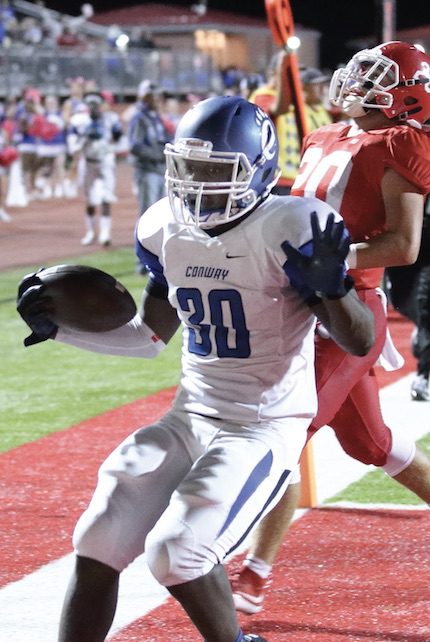 16 Aug 2017

CONWAY: Wampus Cats talented at skill positions

Conference: 7A Central
Coach: Clint Ashcraft
'16 Record: 4-8

In 2016, the Wampus Cats faced their toughest season under Clint Ashcraft since his first season taking over the program back in 2009. Conway started last fall 0-5, but just like in 2009, the Wampus Cats battled back in the second half of the regular season, picked up key wins to earn a playoff berth and earned a first-round victory.

"It was a season of close calls," said Jeff Matthews, play-by-play announcer for Conway Corporation's Channel 5 Sports. "This is a team that went 4-8, and that record could have easily been 8-4 or better. Two of their eight losses were to the two state finalists from last season — Fayetteville and North Little Rock. The margin of loss in the other six games was 7.2 points. Six games were one play away from a win.


"The Cabot game stood out for me. They were unbeaten. We were winless. They were starting a three-year starter and future Razorback at quarterback. We were starting a sophomore who was making his first varsity start. Everything pointed to a Cabot win. Except we won. We won going away, 37-14. It showed the players what they are capable of, and I think they can grow from that."


The crazy start mixed with too many injuries does have a silver lining as the Wampus Cats head into the fall of 2017 — the team boasts 23 returning lettermen.


Senior Andrew Hreha began last fall as the starter at quarterback until getting knocked out due to injury in Week 2. Junior Jovoni Johnson eventually took over the quarterback spot midway through the season. Senior Michael George emerged in the second half of the season and led the Wampus Cats in rushing yards. Seniors Chris Patterson and Kris Anderson return at tight end. Seniors Joe Thomas and Will Kennedy lead the receivers, and junior Will McKenna gained valuable experience in his sophomore campaign, including hauling in a touchdown pass in the first round of the playoffs. Seniors Thomas Cloyd (tackle), Nathan Turner (tackle) and Keandre Clay (guard) are powerful weapons with both run and pass blocking skills up front.
Other top offensive newcomers include running backs Cary McClain and Brennan Clark; H-backs Nick Tufu and Slayde Smith; and offensive linemen LJ Hansberry and Lance Rogers.

"Michael George is poised to have a breakout season at running back," Matthews said. "He had to share the carries last year, but this year he will most likely be the more featured back. Joe Thomas and Will McKenna had good seasons last year and will be important targets through the air."

The Conway 3-4 defense will look brand new up front as new defensive line starters return. But, the linebacker corps (seniors Zach Freedle, Garrett Fusilier, Jackson Freeman and Logan White) and defensive secondary (seniors Will Kennedy, Darnell Washington and Tyler Banks) bring back a ton of experience.

Eric Branch, Cayge Carter, Kaine Aaron, Daniel Cypert, James Martindale and Joaquin Coria will fill out the defensive line rotation. DJ Fuller, BJ Jones, Blake Walter and Matt Lloyd could be new standouts at linebacker. Roman Aaron, Malik Benton, Cole Hoover, Tez Miller, Riley Morales, Darius Wahsington and Skrkhylin Norment fill out the secondary.

"Defensively, two of the better defensive backs in the conference will line up for us — Will Kennedy and Jackson Freeman," Matthews said. "Both are big-play guys on the defense. They will both intercept passes through the year and break up throws on third downs. They are both really, really talented."

"Our strength is that we have lots of guys coming back that played last year," Coach Clint Ashcraft said. "Our weakness is replacing the entire defensive line."