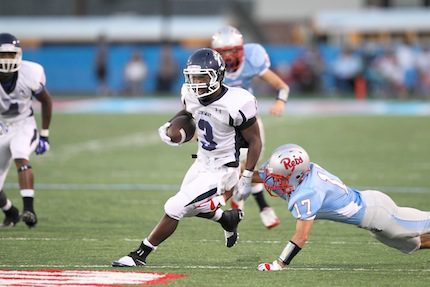 12 Aug 2012

CONWAY: Wampus Cats aim for three-peat as conference champs

Classification: 7A/6A-Central
Coach: Clint Ashcraft
Last Season: 8-3 (6-1)

The Conway Wampus Cats are aiming high again in 2012, looking to make it three years in a row of capturing at least a share of a conference championship.
The Wampus Cats earned the moniker "Comeback Cats" last fall.

"We had to come from behind late in several games last year," Coach Clint Ashcraft said. "Being behind to Jonesboro by three scores in the second half and coming back to win it in the fourth quarter really defined our season."
Quarterback Tyler Langley led Conway to an 8-3 record behind his 2,500 yards passing and 21 touchdowns.

"He will be missed," Ashcraft said of the graduated senior. "EJ Robinson and Marquis Rogers on the defensive line were three-year starters, and they leave huge holes for us to fill."

Senior Cody Rhoades (5-9, 195) is poised to take over for Langley at quarterback. His job will be made a little easier thanks to the more than able returning all-state receiver Brandon Cox (5-7, 150). The senior amassed more than 1,100 yards receiving and 10 touchdowns. Cox also provides an invaluable weapon as a kick returner.

All-state offensive lineman Brannon Kotch (6-1, 255) returns this fall, bolstering an offensive line that will prove to be a major strength for the Wampus Cats. He'll be joined by fellow seniors Bryton Booher (6-8, 295) and Jalin Pearson (5-11, 265) and junior Blaine Joyner (6-1, 240).

"Cox, Kotch, Booher, Joyner and senior H-back Quincy Wardlow — along with senior lineman Marcus Wright and junior corner A.J. Burton on defense — we expect these guys to be the leaders of our team," Ashcraft said. "We expect them to use their experience to help our new starters get adjusted.
"We expect our offense to be much improved over last year with all the experience we have returning with six starters. Our defense will have several new faces on the field this year as we replace nine seniors from last year."
Senior Slater Smith (5-11, 200) — a member of this year's 501 Football Team — provides depth at H-back after missing last season because of a leg injury.

"Everyone on our team admires and respects Slater for high leadership, example, faith and hard work," Ashcraft said. "I expect him to be an all-conference player for us coming off a leg injury his junior year, and I expect him to be the leader of our team."
Ashcraft and his Wampus Cats will face some new foes in the new 7A/6A Central, taking on newcomers Little Rock Hall, Fort Smith Northside, Fort Smith Southside, Parkview and Greenwood, while maintaining some familiarity with Russellville and Little Rock Catholic.

"The new conference — I really don't know what to expect with so many new teams on the conference schedule," Ashcraft said.
A tough non-conference schedule — including old conference foes Bryant and Cabot — will give the Wampus Cats more than enough opportunity to sharpen their weaknesses before conference play.

"Our weakness is that we have to put together a defense that develops some chemistry and confidence early in the year," Ashcraft said.
Conway may have several positions to replace, but that hasn't been a problem since Ashcraft came to town. Numbers have increased every year, and 2012 isn't an exception.

"We've had the most participation we have ever had," Ashcraft said. "Our numbers are really up. That's a huge strength for us."
501 Football Team 2012 –

Slater Smith
Cl
assification: Senior

Position: TE/H-back/ OLB

On the field: Tremendous leader, never gets rattled and plays all out every play.

Off the field: Inspires/ motivates others, holds teammates accountable, trustworthy and dependable.

Community work: Works with little kids at camps, church and through sports. He's very involved in youth group and its outreach at his church.

Sportsmanship: Never uses profanity.Tries to beat his man every play and then help him up. Everyone on our team admires and respects Slater for his leadership, example, faith and hard work.

Classroom: Ranks in the top of his class.

Expectations: To be an all-conference player and to be the leader of our team.

Last season: He was injured but was still out there every day pushing and motivating his teammates.

Other: One of the best young men I have ever had the pleasure of coaching.