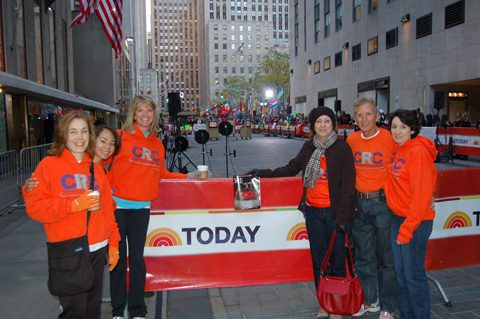 18 Jan 2012

Conway runners experience the 'Big Apple'

by Mark Oliver


It started as an item on one's "bucket list" and ended up being an experience that members of the Conway Running Club will never forget.


On Nov. 6, members of the Conway Running Club made the journey to New York to represent the 501 in the New York City Marathon, one of the world's greatest races, which attracts more than 100,000 applicants each year. Of the 19 that made the trip, 10 runners participated in the event.


One does not simply run in a marathon without proper training, however. The Conway runners participated in the "Break 4:00 or Bust" training plan, a 16-week workout featuring hill work, varying tempo sessions and strategic goal-pace runs, with an ultimate goal of finishing a marathon in less than four hours.


"[We] chose an intermediate program, not one for someone just wanting to complete a marathon," runner Cindy Stage said. "We met at the Conway (Regional Health and) Fitness Center parking lot at 5 a.m., sometimes earlier, to train as a group. We ran as a group through the streets of Conway as much as our schedules would allow."


For additional training, Stage joined CrossFit East Conway for personal help with strength training. Another runner, Don Potter, completed the Big Dam Bridge 100-mile cycling race in September. Some members biked around Conway as time allowed. Others attended weightlifting classes and yoga classes at the Conway Regional fitness center.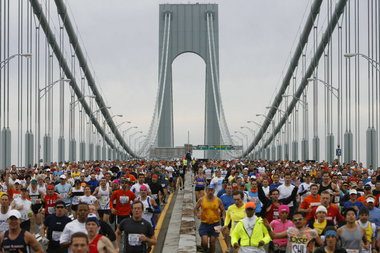 In New York City, thousands of spectators lined the city streets on the 50-degree morning to cheer on the nearly 45,000 runners. Many countries were represented at the event and a few celebrities also participated, including actor Mario Lopez, musical artist Mýa and U.S. Olympian and former "Dancing with the Stars" winner Apolo Anton Ohno, among others.

The event began with a traditional ferry ride to Staten Island, where the runners passed by the Statue of Liberty. The course began on Staten Island and continued for around 13 miles through Brooklyn and then through Manhattan, Queens and the Bronx before finishing in Central Park.

"Some might say it's nearly 'religious,'" Stage said. "Running across the Verrazano Bridge at the start with thousands of other runners is not describable in words; it's simply breathtaking."

A few Conway runners ran for charity: Dr. Alan Lucas ran for New York Road Runners' Team for Kids, which provides free or low-cost health and fitness programs for children. Brandie Martin ran for TEAMHOPE with the Pancreatic Cancer Action Network. Other Conway Runners – Claudia Courtway, Teresa Blumenberg and Grace Smith – ran for Achilles International and served as guides for a blind South African man, Geoff Hilton-Barber.

"You really get to know someone when you run 26.2 miles with them," Courtway said. "At first I was very timid and tense, but Geoff taught me how to be an assertive guide and relax, and how to alert him of any changes in the terrain, like thousands of soggy water cups and a whole heap of banana peels that were on the street and could prove very dangerous for a blind runner.

"By mile 10, I was weaving through the crowd with confidence and relishing every moment," Courtway added. "I have run several marathons and have done a lot of fun things in my life, but this by far was the most fun marathon and one of my favorite experiences in my life. Guiding a blind person is definitely something I will do again in the near future."

All 10 Conway runners finished the race. Courtway, Blumenburg, Smith and Hilton-Barber crossed the finish line together.

For more information on Conway Running Club membership or events, visit conwayrunning.com.