17 Sep

Conway Regional Women's Council plans awareness luncheon Oct. 5

The Conway Regional Women's Council is hosting a special luncheon to raise awareness about breast cancer while celebrating those battling the disease.

Doors open at 11 a.m. Friday, Oct. 5, for the event at New Life Church, 633 Country Club Road in West Conway. The luncheon will begin at 11:30 a.m.

"The women's council is hosting this luncheon in conjunction with Breast Cancer Awareness Month," said council president Aimee Prince. "We want to raise awareness about the disease, the importance of early detection, signs and symptoms of breast cancer and the importance of healthy habits. We also want to celebrate our sisters who are breast cancer survivors."

Statistics show that one in eight women in the U.S. will develop invasive breast cancer over the course of her lifetime. In 2018, an estimated 266,120 new cases are expected to be diagnosed in women and approximately 2,550 in men. Fortunately, incidence rates have been decreasing because of earlier detection through screening, increased awareness and treatment advances.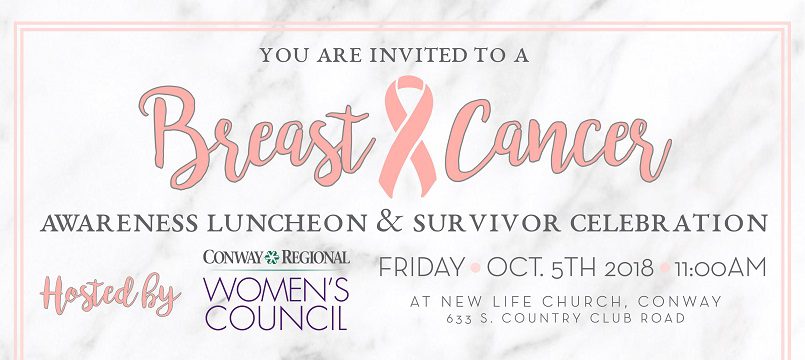 Conway Regional has invested in Tomosynthesis (TOMO) a cutting edge 3-D mammography and diagnostic breast imaging tool that offers advanced detection, fewer call backs and greater peace of mind for patients. Proceeds from this year's Dazzle Daze will be used to purchase a second TOMO unit.
At the luncheon, breast cancer survivors will receive a corsage and a special gift from Kendra Scott, a fashion and accessory store in Little Rock.
The luncheon will feature a vendor expo, including the Conway Regional Fabulous You Boutique, Conway OB/GYN and the Conway Regional Imaging Department, which will offer immediate mammogram scheduling. Representatives of Kendra Scott will also participate, with 20 percent of sales donated to the women's council.
Dr. Lauren Nolen, a physician at Conway OB/GYN will be the keynote speaker. Breast cancer survivor Elizabeth Schaefer will also share her experience.
during the program, there will be an opportunity to remember those who lost their battle with breast cancer.
Luncheon sponsors are Michelle Phillips/Certified Public Accountant, Kendra Scott, the Conway Regional Women's Center, Conway OB/GYN Clinic and Horton's Orthotics & Prosthetics.
Tickets are $25 each and include a special gift bag. Corporate table sponsorships are available. To purchase tickets, go to conwayregional.org/women's council or call the Conway Regional Foundation at 501.513.5191.