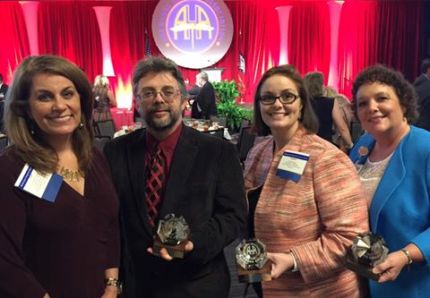 16 Nov

Conway Regional wins 12 awards for marketing

Conway Regional Health System has won 12 marketing awards, including three first place diamond awards in the 2014 Arkansas Hospital Association's (AHA) Diamond Awards competition.


The awards recognize excellence in healthcare marketing and public relations. The 2015 marketing awards represent the largest number of awards received by Conway Regional since the health system began participating in the annual contest.


The diamond awards, the AHA's highest recognition, were presented during the AHA's 85th Annual Meeting and Trade Show on Oct. 8 at the Marriott in Little Rock. The annual awards banquet honors work done by marketing and public relations professionals in healthcare. Conway Regional won Diamond Awards for:

An advertising print campaign for Conway Regional's After Hours Clinic with individual ads titled "Under the Weather," "Friday Night Sniffles" and "Camp Out."

Advertising/Special Visuals – Governor's Quality Award (elevator wraps, I-40 billboard, building banners, parking lot banners, Governor's Quality Award jackets and lapel pins).

A promotional campaign in the Foundation category for Dazzle Daze 2014.

Other awards include second place certificates of excellence for the following categories and projects:

Advertising/Print –Tornado Recovery ad.

Advertising/Print – Personal Trainer Success Stories.

Advertising/Print – Governor's Quality Award (print ads with award photos).

Advertising/Total Campaign – Governor's Quality Award (event, print ads, billboard, special visuals).

Advertising/Total Campaign – After Hours Clinic (print ads, billboards, magnets, cards, radio).

Electronic Marketing Campaign – Dazzle Diva Contest.

Electronic Marketing Campaign – #selfiewiththegov contest at Governor's Quality Award event.

Foundation – Women's Health Fair.

Internal Publication – Team Talk Newsletter.

Judging for each entry was based on goals, audience, format, frequency, results and total budget. The Conway Regional Marketing and Public Relations team, led by Lori Scroggin, includes Lanette Rogers, John Patton and Becky Benedetti.