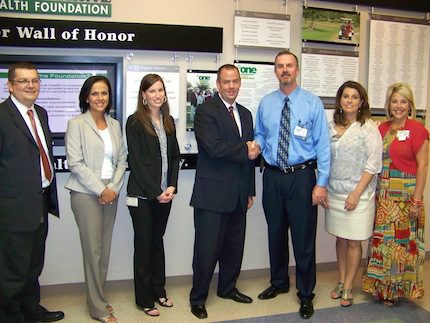 30 Jul

Conway Regional receives HP grant

Conway Regional Health System recently announced it has received a donation of almost $44,000 in computer equipment from HP for a dedicated education room in the new Conway Regional surgery department and for computers in various other locations throughout the new addition.

HP's donation to Conway Regional includes 35 HP TouchSmart 7320 All-in-One PCs, six high-volume HP LaserJet P4515n printers and 10 HP LaserJet P2055dn printers. The equipment will be used in the surgery department education room where physicians and staff will be able to use the technology for research and training.


The computer equipment will enable physicians and staff to stay up-to-date on the latest treatment and trends in medicine. The education room will serve as a site for continuing, professional education training for physicians and staff and will include three, PC-equipped work stations. The remaining donated equipment will be used in various locations throughout Conway Regional's new addition.


"On behalf of the physicians and staff at Conway Regional Health System, I want to applaud HP's generosity and commitment to education. The equipment that we've received will enhance the learning experience for physicians and staff which will, in turn, benefit patients at Conway Regional," said Jim Lambert, president and CEO, Conway Regional Health System.


"By applying our technology, expertise and dedicated volunteers, HP increases quality of life and contributes to the prosperity of people and communities around the world. With this grant, we are creating new opportunities for the physicians and staff at Conway Regional Health System and helping foster their technology growth," said Gabi Zedlmayer, vice president, Office of Sustainability and Social Innovation, HP.


Conway Regional Health System provides complete health care services to the growing communities of north Central Arkansas, centered on a 154-bed acute care medical center. The not-for-profit medical center provides patients with comprehensive care including cardiovascular surgery, cancer diagnosis and treatment, women's services and rehabilitation therapy services. Additional components of the Conway Regional Health System include an all-digital outpatient imaging center, an outpatient surgery center, Conway Regional Rehabilitation Hospital, several primary care clinics and one of the largest hospital-owned fitness centers in the nation.