30 Nov 2020

Conway Regional Medical Center recognized for Physician Engagement

Posted at 3:33 PMh

in

News

Conway Regional Medical Center is honored to be the recipient of two 2020 Press Ganey Awards for Physician engagement. The Medical Center was awarded the Pinnacle of Excellence Award and the Guardian of Excellence Award, which recognize the innovations and achievements of top performers in healthcare

Conway Regional partners with Press Ganey to evaluate both patient and employee experiences to create and maintain a high-performance environment that improves the quality of the health care services provided. Press Ganey surveys are conducted throughout each reporting year to collect the data used to inform improvement strategies.

The Pinnacle of Excellence Award recognizes organizations that achieve and maintain consistently high levels of excellence for at least three years in patient experience, employee or physician engagement, or clinical quality performance. Conway Regional Medical Center is one of only four organizations throughout the country to receive this award for physician engagement.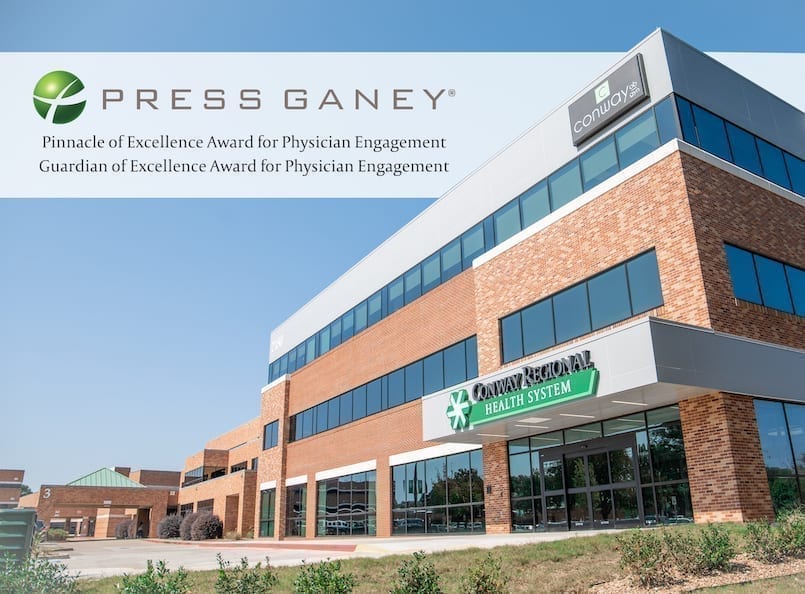 The Guardian of Excellence Award honors organizations that have achieved the 95th percentile for patient experience, employee or physician engagement, or clinical quality performance during each reporting period of the award year. Conway Regional reached the 95th percentile in physician engagement for the 2020 award year, recognizing sustained performance in the top 5%.
"We are truly honored to recognized by the 2020 Press Ganey Awards for our physician engagement," said Matt Troup, President and CEO of Conway Regional, "Our team approach and relationships with our physicians are what differentiate us from other hospitals, not only in Arkansas but around the country. At Conway Regional, physician and employee engagement are prioritized as an integral part of our work culture. We are committed to maintaining strong relationships with our physicians to ensure that we are delivering the highest-quality care to the communities we serve."
"Conway Regional is an organization that truly prioritizes physician engagement and partnership," said Carol Angel, Chief of Staff for Conway Regional Health System's medical staff. "Utilizing the Accountable Clinical Management model is one example of how administration and physicians work collaboratively to create a culture of transparency, efficiency, and trust. This team approach enables Conway Regional to continue providing high-quality, compassionate care as the hospital grows to meet the needs of a growing community."
The Accountable Clinical Management (ACM) model of shared governance promotes meaningful engagement of physician leaders in partnership with hospital leadership. The ACM creates an environment for community physicians to come together and make decisions and provide input in the area of clinical care, operations, finance, new program development, and strategy—all in an effort to improve patient service and quality, and deliver world-class care in Conway, Arkansas.
The Press Ganey annual performance achievement awards honor top-performing healthcare organizations with a commitment to delivering reliably safe, compassionate, high-quality care, and creating a culture of excellence to engage and support health care providers. Conway Regional has been the community's hospital for nearly 100 years, honoring the organization's mission to provide high-quality, compassionate care to the families, friends, and neighbors within the communities it serves.
About Conway Regional
Conway Regional Health System provides complete health care services to a seven-county service area of North Central Arkansas including Cleburne, Conway, Faulkner, Perry, Pope, Van Buren and Yell Counties. Centered on a 150-bed, acute care medical center, the health system provides patients with a variety of services including heart health, orthopedic care, neuro-spine surgery, vascular surgery, gastroenterology services, women's health, surgery, and rehabilitation. Conway Regional operates an expansive physician enterprise, including ten primary care clinics and seven specialty clinics. Additionally, the health system operates a Rehabilitation Hospital and a 70,000-square-foot Health and Fitness Center. In June of 2019, Conway Regional announced a management agreement with the Dardanelle Hospital, since renamed the Dardanelle Regional Medical Center.
With more than 200 physicians providing services at Conway Regional, the organization partners with the medical staff in an Accountable Clinical Management Model (ACM). This one-of-a-kind partnership creates a model of shared governance to promote meaningful engagement of physician leaders with hospital administrative leadership—all in an effort to improve patient experience and enhance care.