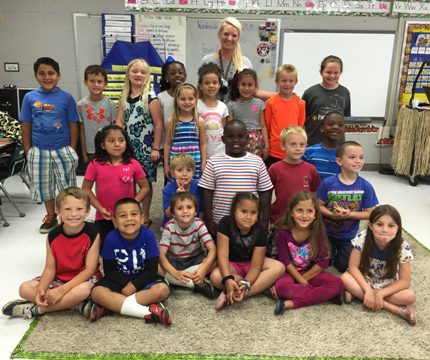 29 May 2015

Conway Public Schools names district teacher of the year

Posted at 11:37 AMh

in

News

Conway Public Schools recently announced Megan Fotioo as the 2015-16 District Teacher of the Year.

Fotioo teaches first grade at Theodore Jones Elementary School, where she is a mentor teacher and a member of the building's leadership team. She earned bachelor of science and master of science degrees in education from the University of Central Arkansas. Fotioo also serves on the district curriculum alignment committee and is a graduate of the Arkansas Leadership Academy's Teacher Leader Institute.


This is the first District Teacher of the Year Honor for Theodore Jones Elementary. Principal Tammy Woosley said her school is beyond thrilled with the honor.


"Megan is a real leader in our school and district," said Woosley. "I have enjoyed watching her grow as a teacher during her five short years here. Each student which we entrust to Megan's care is met with a smile, love and dedication. While she builds a sense of community in her classroom, she treats each child as an important individual."


As District Teacher of the Year, Fotioo will represent Conway Schools as the nominee for Regional Teacher of the Year. She will also address the district's faculty and staff at the annual Back to School Assembly in August.


"We are delighted that Megan has been selected as our District Teacher of the Year," said Superintendent Dr. Greg Murry. "She is an exceptional teacher who is so deserving of this honor. She will serve as a wonderful representative of all our teachers who do whatever it takes to make our district a great place for our students."


Other Teachers of the Year from Conway's Schools include:


Sallie Cone Preschool – Audrey Jolivette; Ellen Smith Elementary – Valerie Henderson; Florence Mattison Elementary – Krystal Henderson; Ida Burns Elementary – Kristy Green; Marguerite Vann Elementary – Barb Clardy; Julia Lee Moore Elementary – Bridget Maxell; Jim Stone Elementary – Angela Ladd; Carolyn Lewis Elementary – Kerri Gray; Woodrow Cummins Elementary – Meredith Thone; Ruth Doyle Middle School – Amanda Hawkins; Simon Middle School – Denise Dacus; Bob Courtway Middle School – Courtney Bishop; Carl Stuart Middle School – Cindy Buddenburg; Conway Junior High – Kyle Branscum; Conway High School – Carla Owen; and the Adult Education Center – Sandy Kennemore.