17 Aug 2016

Conway Kids Triathlon posts great turnout

Nearly 200 young people participated Saturday in the 19th annual First Security Conway Kids' Triathlon.


"We had a great Kids Triathlon this year," said race director Heather Kendrick. "This was the 19th year for the event, such a strong history! We had a great turnout and a wonderful race!"


Awards were presented to:


Junior Division – (Ages 6-10)


Overall Female – Madden Cabantac


Overall Male – Lane Carpenter


Senior Division – (Ages 11-15)


Overall Female – Julia Mann


Overall Male – Garrett Pendergraft

First through fifth place trophies were awarded to boys/girls in all age levels 6 through 15. Complete race results can be found at http://conwaykidstri.com/results/.

"We had 185 total finishers on Saturday morning," Heather said. "Each race finisher got a T-shirt and custom medal. We also gave away four bicycles, courtesy of The Ride, and other door prizes."

Triathlons are events involving three sports – swimming, biking and running; and while the health benefits of participating are obvious, the self-confidence that comes from being involved in an endurance event is just as important.

"When the forecast kept calling for rain and thunderstorms last week, we just kept praying and hoping that it would hold off until after the race. We were beyond thrilled with the cooler, cloudy weather that gave our participants a wonderful race morning," said Kendrick. "Everyone had a fun time and it was awesome to see those kids run across that finish line. This year's race was amazing!"

Post-race activities included smoothies from Smoothie King, hot dogs and chips courtesy of First Security, sno-cones, popcorn, a bounce house from Central Events and more.

Organizers were thankful for all the support from sponsors and the help provided by volunteers. "This is a team effort and our board is grateful!"

Proceeds from the race benefit Soul Food Café Mission, giving kids and their families a chance to help other kids and families who are in need.

"It's inspiring to watch these kids work so hard to swim, bike, then run and push themselves to get stronger, all while knowing that their efforts are helping hurting kids and families right here in our community," said Kendrick. "We love helping Soul Food Cafe with our proceeds. Rick and Traci Harvey and their staff/volunteers are right there at the race serving right alongside us. It's very special.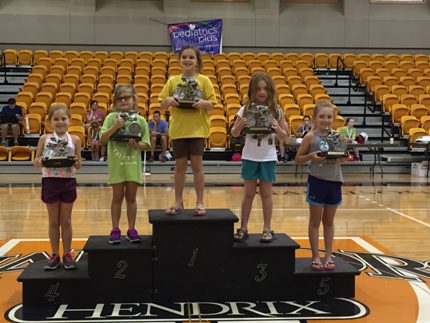 "This year, a little girl from Soul Food even came to sing the National Anthem before the race. She had been baptized at Soul Food and discovered she could sing there by learning gospel hymns. The crowd cheered so loud as she sang the National Anthem flawlessly."

Kendrick added, "The Conway Kids Triathlon is such a good example of how our community comes together to cheer on our young people and at the same time support each other as we work together toward common goals. Love this event!"

Visit conwaykidstri.com for more information.