18 Aug

Conway Girl Scouts recognized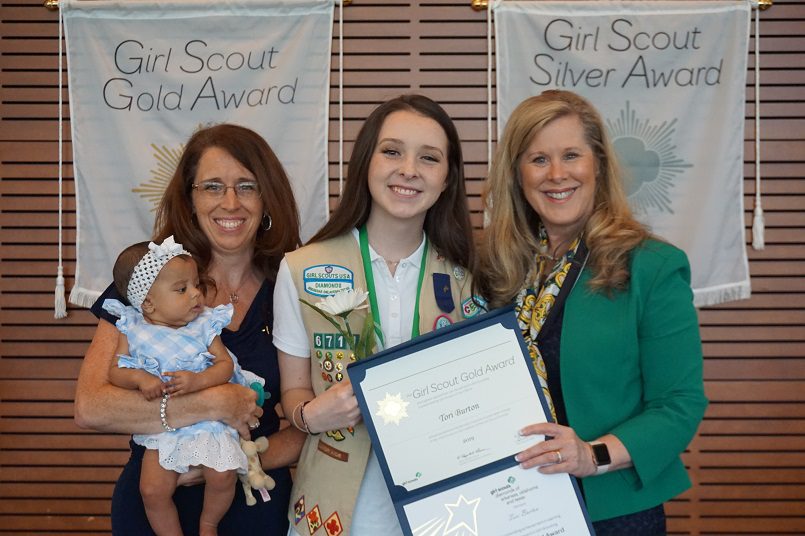 Girl Scouts – Diamonds of Arkansas, Oklahoma and Texas recently congratulated Tori Burton and Amanda Gericke, both of Conway, for earning the Girl Scout Gold Award. 
Burton earned a Gold Award for her Healthy Habits Garden Take Action Project and Gericke for her Population Pets Take Action Project. 
Burton, a daughter of Robby and Teresa Burton, built a garden at a local preschool to help educate the students and their parents on the importance of healthy eating and leading a healthy lifestyle. The students helped plant and grow different fruits and vegetables, which they later harvested for snacks and educational activities with their parents designed to teach the importance of nutrition. 
Gericke, a daughter of David and Cammi Gericke, partnered with a local spay and neuter clinic to educate her community about the importance of spaying, neutering and vaccinating pets to prevent overpopulation and the spread of communicable diseases. Gericke hosted information booths at several community events. She even hosted a food and pet supply drive to help stock the pantry at a local clinic. 
Both girls are members of Troop 6711 and have been involved in Girl Scouting for more than 10 years. 
By earning the Girl Scout Gold Award, Burton and Gericke have become community leaders. Their accomplishments reflect leadership and citizenship skills that have set Gold Award Girl Scouts apart since 1916. The Girl Scout Gold Award, the highest achievement a Girl Scout can earn, acknowledges the power behind each Gold Award Girl Scout's dedication to not only empowering and bettering herself, but also to making the world a better place for others.