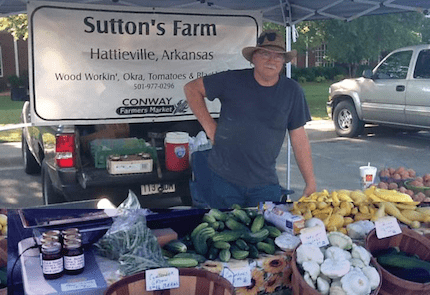 23 May

Conway Farmer's Market now tobacco-free

Customers at the Conway Farmer's Market will notice something different beginning with this year's season — a tobacco-free environment.


The market, which is celebrating its 41st year in operation, is planning a grand opening Saturday, May 30, at its location on the parking lot at Antioch Baptist Church, 150 Amity Road.

According to Kami Marsh, an agent with the Faulkner County Cooperative Extension, the farmer's market board worked with Leigh Hood with Stamp Out Smoking, a program of the state Department of Health, to implement the tobacco-free policy in April. Leigh submitted a proposed policy which the board reviewed and approved for inclusion in its bylaws. Leigh also provided signage for the market grounds.


"The board felt that to be healthy and provide healthy produce, we should be all around healthy," Kami said.


During the peak of its season, the market has 37 vendors, and additional applications are being submitted. Vendors provide items ranging from baked goods and crafts to honey, vegetables and fruit. "We have some new vendors as well as our regular vendors," Kami said.


Opening day at the market was May 9. The market is open 6:30 a.m. until noon May 9-30 on Saturdays only. The market will be open the same hours on Tuesdays and Saturdays from June 2 through Aug. 15. From Aug. 22 through Nov. 7, the market resumes its Saturday only schedule.


The market is no longer open on Thursdays.


On Tuesdays, senior citizens receive a 10 percent discount.


Kami added that new and exciting changes are on the horizon for the farmer's market.


For more information, visit the Conway, Arkansas Farmers Market page on Facebook.