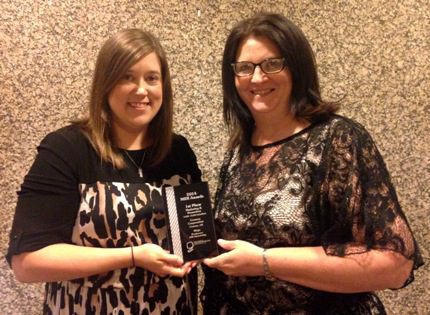 25 Aug

Conway Corporation receives awards

Conway Corporation was recognized with awards presented at the 2014 Mid-America Cable Show held last month in Kansas City, Mo.

The marketing and media production department received six MIDI Awards including first place for its marketing campaign "Ninja" featuring two commercials, events and numerous print materials promoting the new whole-home entertainment system "Ninja" with a six-tuner DVR, high-speed wireless Internet and home telephone capabilities in one box. Marketing manager Crystal Kemp and marketing coordinator Beth McCullough were recognized for the campaign.


The "This is Ted" commercial advertising the Channel 5 series "Going to the Dogs" received first place in the cable advertising category, while the "Find your Breathless Edge" commercial advertising the Channel 5 show "Burn with Robin Dayer" won second. Production coordinator Wayne Bailey was recognized for producing both spots.


Conway Corporation's coverage of Prom 2014 received second place in the community programming single show category. Production coordinator Ryan Tucker led production of the show featuring highlights and fashions from the event.
Conway Corporation local programming swept the community programming series category winning first, second and third place. "Going to the Dogs," featuring host Donna Clawson, received third place along with Bailey. Wampus Cats Sports 2014, produced by both Bailey and Tucker, received second place. "Dish n' Dirt," hosted by Kami Marsh, won first place and is also produced by Bailey.

Conway Corporation was also recognized for excellence in customer service when 17 of its customer service and cable installer professionals were awarded Customer Service Excellence Awards.

Call center supervisor Lesia White was recognized in the upgrade sales category for her use of product knowledge to match services to customer interests while customer service manager Jaylene Sexton was recognized in the cable champion category for demonstrating outstanding achievement in leadership.

Commercials sales account executive Eleise Wood Myers and customer service specialist Shelly Smith were both recognized in the sales category for presentation of features and benefits while helping customers find the correct products and services for their needs.

Cable installers James Buggs, Will Evans, Jason Fleming and Tony Lemke along with system technicians Brent Garren, Justin Kimbrow and Jeff Meredith were recognized in the repair/service category.
Customer care specialist Michelle Hatfield, customer service specialist Elizabeth Harmon, lead customer service specialist Jane Harrison, senior technician Robert McCray, marketing coordinator Beth McCullough and fiber technician Jason Schaal were also recognized. The awards are earned based on entrants' concern for their customer's individual needs and resolution of the situation to the customer's satisfaction.

The Mid-America Cable Association is an industry association formed in 1958 to help telecommunication providers promote technical excellence, superior customer service, exemplary marketing and student scholarship. It includes cable telecommunications system operators in Kansas, Missouri, Nebraska, Oklahoma, Iowa, Arkansas and Texas. Conway Corporation was competing with systems of 10,000-25,000 cable subscribers. To learn more about Conway Corporation's community programming, visit conwaycorp.com.