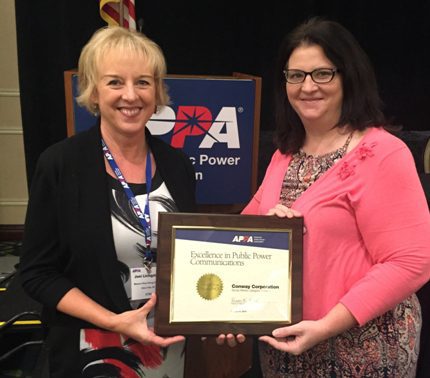 09 Nov

Conway Corp social media receives APPA honor

Conway Corp has been awarded an Award of Excellence for Social Media from the American Public Power Association.


APPA conducts the Excellence in Public Power Communications awards to encourage and recognize excellence in communications. Awards were given to utilities that showed ingenuity and creativity in copy, design, financial data, graphics, organization, social media interaction, video editing, web layout and interactivity, as well as in communicating the utility's special story.


The company was recognized for its use of Facebook, Twitter and the company blog to educate, inform and share company information with the community.


Marketing and Public Relations Manager Crystal Kemp accepted the award at the APPA Customer Connections Conference in Austin, Texas. Conway Corp's social media efforts are led by Kemp and marketing coordinator Beth McCullough Jimmerson.