08 Aug 2015

CONWAY CHRISTIAN: Success continues to build for Eagles

Conference: 5-2A
Coach: Michael Carter
'14 Record: 9-2 (7-0)

The Conway Christian Eagles posted their best season yet in 2014.


"It was a great year," said Coach Michael Carter. "We won our first conference championship, went 7-0 in conference and finished 9-2 overall. Our defining moment was beating Magnet Cove at home, 17-14."

The best part of last year's success is that it was accomplished with an overall younger team. Several starters return this fall.


Senior Jakob Henry is back after completing 145-of-245 passes for 1,741 yards and 21 touchdowns last fall. Senior Brendan Camp will start at running back. Seniors Jon Mark Wood and Clayton Dent and juniors Seth Smith and Will Jackson give the Eagles several options at wide receiver. Dent hauled in 85 receptions for 763 yards and 11 touchdowns and rushed 41 times for 462 yards and three touchdowns in 2014. Wood recorded 42 receptions for 595 yards and eight touchdowns, and Smith caught 31 balls for 444 yards and eight touchdowns.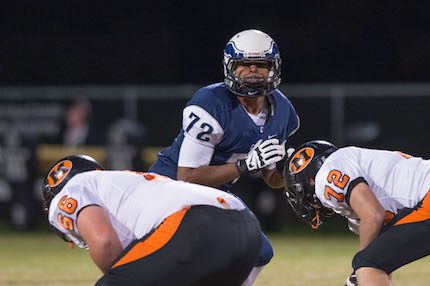 Junior Cameron Horton (tackle), senior Carter Bramlett (guard), senior Carter Free (center), sophomore Brett Callaway (guard) and junior Lyndon Cobble (tackle) make up the offensive line.

"We have good skill people," Carter said. "We have to be able to get them the ball in space. We should be explosive on offense."

Bramlett and seniors Zach Staley, Parker Burford and Shawnell Gill man the defensive line. Bramlett posted 41 assisted tackles and 26 solo tackles last fall. Horton, junior Robbie Hogue and Camp start at linebacker. Hogue racked up 36 assisted tackles and 26 solo tackles in 2014. Juniors Bennett Pascoe and Trey Starkey, Wood and senior Will Callaway start in the secondary. Callaway snagged four interceptions a year ago.
"We were a good defensive team last year," Carter said. "We have some good returning starters from last year. I expect us to be very tough on defense. We have a tough conference (5-2A), and you must be ready to play every Friday night. I believe that any of our opponents can win the conference. Our strength is our skill players. Our weakness is our depth."