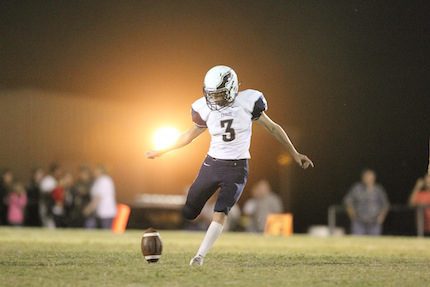 12 Aug 2012

CONWAY CHRISTIAN: Eagles skilled on offense, improving on defense

The Conway Christian Eagles started 2011 with two losses, but rebounded with six straight wins and finished 6-4 in the regular season. The Eagles reached the playoffs for the fourth year in a row and lost to McCrory in the first round.
"Our team worked extremely hard each week," Coach Michael Carter said. "We got better each week. We were outmanned at McCrory, but our kids believed and played extremely well. We ended up losing but the confidence we got from that game has carried over into this summer and fall."
Senior and 2011 501 Football Team honoree Tanner Stevenson (6-1, 180) returns at quarterback after putting up big numbers for the Eagles last fall — 2,728 passing yards and 30 touchdowns.

Stevenson has two talented options at receiver — senior Andrew Dather (6-1, 175) and junior Chandler Ferrand (5-10, 170). Dather recorded 66 receptions, 934 yards and 19 touchdowns in 2011; Ferrand had 42 receptions, 781 yards and two touchdowns.
"We should be very good on offense," Carter said. "We have great skill players and a great offensive line. Dather is in my opinion the best receiver in the state. Stevenson is one of the top quarterbacks in the state."

The Eagles expect Matt Austin (5-9, 225) to be a leader on the offensive line at center. The senior is a member of this year's 501 Football Team.
"We are in shotgun 99 percent of the time," Carter said. "We must have a good snap for our offense to work. Austin does an outstanding job at center."

Defensively, the Eagles return six starters, including the top three tacklers from last season — seniors Jarret Bowden (6-1, 165), Seth Bickford (5-10, 175) and Griffin Guinn (5-9, 175) at linebacker.
"Hopefully we'll be much improved on defense," Carter said. "For us to contend for a conference title, we must be better on defense."

501 Football Team 2012 –

Matt Austin
Classification: Senior

Position: OL/DL

On the field: Great leader, hard worker, encourager.

Sportsmanship: Leads by example. He makes the people around him better.

Expectations: To be a great leader and lead by example.

Last season: He is our center. We are in shotgun 99 percent of the time.We must have a good snap for our offense to work. He does an out- standing job at center.