04 Mar

Conway chamber to host annual meeting Thursday

The Conway Area Chamber of Commerce will host its annual meeting at 6:30 p.m. Thursday at the HPER Center at the University of Central Arkansas.


The chamber's annual report will be given and awards will be presented. There will be a special announcement regarding Toad Suck Daze and opportunities for international travel.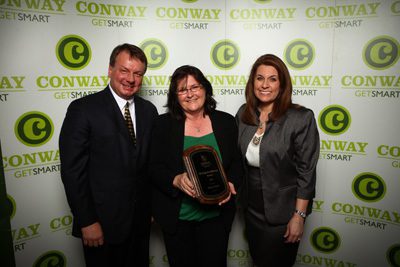 R. Madison Murphy, who began his business career over 30 years ago pursuing an active and involved participation in a wide variety of Murphy Oil Corporation positions, is the guest speaker.

Murphy serves on the boards of two publicly traded companies, Murphy Oil Corporation and Deltic Timber Corporation. He is president of The Murphy Foundation; managing member of Murphy Family Management, LLC (investments, farm, timber and real estate); owner of The Sumac Company (timber, real estate and vineyard operations); and Presqu'ile Winery located in Santa Barbara County, Calif.

Both native Arkansans and graduates of Hendrix College, Madison and his wife Suzanne, have three children, Matt, Jonathan and Anna. He serves on the Hendrix College Board of Trustees and is the chairman of the Arkansas Highway Commission, appointed by Gov. Mike Huckabee. He is also on the boards of the National Council of Economic Education, the Boys and Girls Club of El Dorado and the Arkansas Policy Foundation.
He has served on numerous civic, arts and business boards and also was the recipient of the 2006 Arkansas Cultural Enrichment Award and the 2004 National Individual Winner of the National Wetlands Conservation Award presented by the U.S. Fish and Wildlife Service for his work at Epps Plantation in Northeast Louisiana, a family owned 17,363-acre farm.

For more information on the chamber meeting, please call 501.327.7788.