31 Dec 2020

Connecting all the dots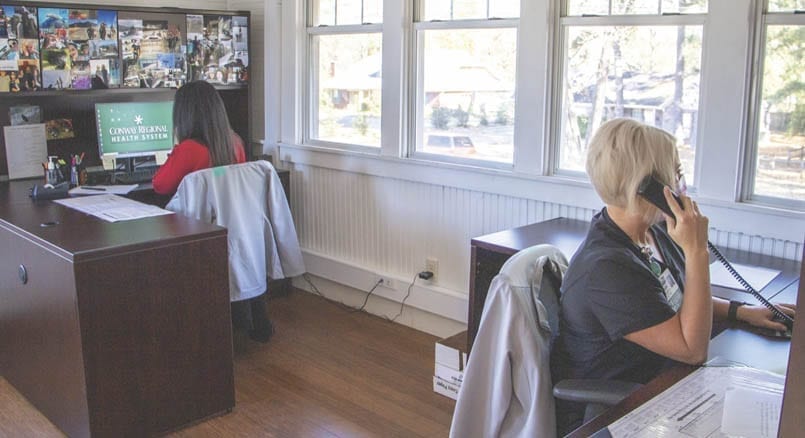 By John Patton
Conway Regional Health System provides complete healthcare services to a seven–county service area in North Central Arkansas. Conway Regional has been a part of the community for nearly 100 years and is centered on a 150–bed acute care medical center. As the community continues to grow, Conway Regional is also growing, supporting patients with new medical offices, more specialists, expanded access to care, and innovative services to ensure the needs of the community are met for years to come.
For the community, Conway Regional recognizes that navigating healthcare can be challenging, especially during a pandemic. "One of our primary goals through COVID–19 has been to serve as a resource for our community," said Matt Troup, president and CEO. "When COVID–19 reached Arkansas in March, we quickly established a call center to directly communicate with patients to answer questions and provide education on prevention, quarantine, and testing."
Inspired by the coordination of the COVID–19 call center, Conway Regional developed a comprehensive Patient Navigation Center. From supporting and extending provider offices to serving as a resource for patients with general requests, the Patient Navigation Center is focused on simplifying the process of navigating healthcare for patients, while increasing access to the appropriate care.
"The COVID–19 pandemic challenged health systems across the nation. At Conway Regional, we do not run away from challenges; we run toward them," Troup said. "The pandemic created additional opportunities for innovation—like establishing the new Patient Navigation Center that is closing a gap and connecting our patients to the care they need."
Leslie Mann, who oversees the Patient Navigation Center at Conway Regional, worked with a team to coordinate the development and implementation of the center. "We knew a lot of great work was happening within the organization to serve physicians, our patients, and our community, however, it was happening in a decentralized manner. So, the question became, 'How do we bring everything together in a way that makes sense for our patients?'"
With the patient experience in mind, staff throughout the health system began to identify the best way to bring together existing services, to imagine and create new services to meet patient needs, and to make accessing care within the health system as seamless as possible. Registered nurses, licensed practical nurses, and non–clinical staff were recruited to bring the Patient Navigation Center to life.
With this highly trained group of professionals now in place, the center is equipped to help patients in a variety of ways. When a patient does not have an established primary care provider, the center can help find a location to receive a flu shot, connect with a new family care provider or specialist, or even provide directions to an after–hours care location. The center's staff can also assist patients who may have concerns about whether they should go to the ER for non–urgent care by evaluating their symptoms. The health system plans to continue growing the Patient Navigation Center, adding additional services in the coming months.
"As we continue to reimagine healthcare at Conway Regional, we will continue adding services that help meet the needs of our community, while focusing on simplifying the process and improving access to high–quality, compassionate care," Mann said.