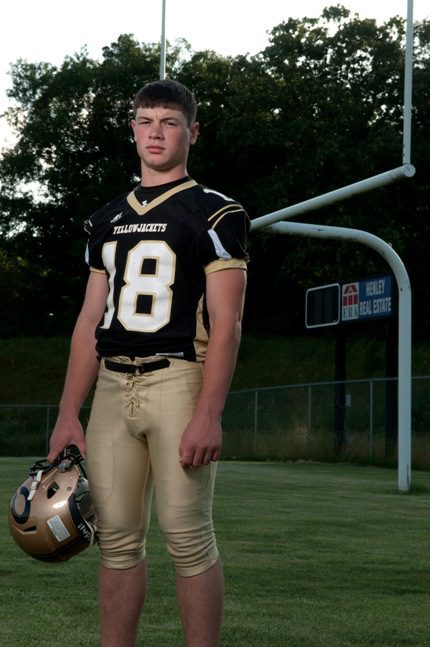 30 Oct 2013

Clinton's Drew Farmer dreams 'big'

by Mark Oliver


Like many young boys in the 501, Clinton senior Drew Farmer grew up following the NFL.

A Dallas Cowboys fan as a youngster, Farmer took his love of football to the next level, suiting up for the Yellow Jackets in fourth grade and pursuing a dream to become a strong running back like his favorite player, Emmitt Smith.


"I watched NFL games a lot when I was younger," Farmer said. "I have always liked the Dallas Cowboys and Emmitt Smith. I've always wanted to do what they do on the field. It looked fun."


Eight years later, Farmer hasn't strayed from his goal. The senior can be seen bruising opponents offensively and defensively under the Friday night lights in the 501.


Farmer was nominated by coach Chris Dufrene and selected for this year's 501 Football Team.


"Drew gives 100 percent all the time," Dufrene said. "He always has a great attitude and always has a smile on his face. He plays within the rules and has high character on and off the field."


Finishing just 2-8 a year ago, the Yellow Jackets (3-5, 2-3) have bounced back in 2013 and are eyeing a trip to the Class 4A playoffs. On Friday, Nov. 1, Clinton will travel to Heber Springs to take on the Panthers in a match that could determine the fifth and final playoff seed from the 2-4A — a spot that both teams are currently tied for. Heber Springs won last year's bout, 42-20.


"We're looking forward to playing against Heber Springs," Farmer said. "We've been working on getting stronger and faster and working together as a team. We've been learning new plays and trying to become more familiar with old plays. We're ready."


While Farmer and the Yellow Jackets are taking this season one game at a time, there's a bigger goal the team is working toward — together.
"Our goal is to advance past the second round of the playoffs," Farmer said. "That's something Clinton has never done. If we work together and believe in each other, we can do anything."

For Farmer, achieving his dream hasn't always been easy.

"My height has always been a challenge for me on the field," Farmer said. "I've always been shorter and smaller. Over the last few years, I've grown a few inches and gotten a little bigger, too.

"Last season I hurt my hip flexor, and I was out for a week and a half. I missed homecoming. We played Stuttgart, and I had to miss that one."

Outside of football, Farmer also plays left field for Clinton's baseball team and is actively involved in Fellowship of Christian Athletes. On the weekends, Farmer can be found enjoying the outdoors with teammates Fielder Dufrene and Caden Hickman.

"We love to go hunting and fishing together," Farmer said. "We've all grown up together, we go to the same church together and we hang out all the time on youth group trips."

Despite balancing athletics, homework and his friends, Farmer also makes time for his community as well.

"I volunteer at [First Baptist Church] in Clinton," Farmer said. "I'm active in my youth group. We go work at people's houses, help clean up the church and help set up the church for various activities."

After high school, Farmer hopes to pursue a career in the medical field with a degree from Arkansas State University or Ouachita Baptist University.