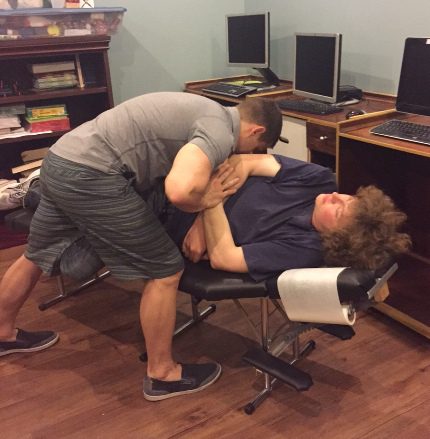 13 Jul

Chiropractors give back by helping at Bethlehem House

Drs. Brian and Merissa Beard, husband and wife, have been in Conway for a little over a year. For the last three months, they have been using their skills as chiropractors to help the homeless. "We were looking for somewhere to give back to our community," said Merissa. "Conway has been awesome giving to us."


The Beards had performed adjustments on Sundays at a homeless church while attending Parker University in Dallas. It was a logical step for them to start helping the homeless through Bethlehem House, Conway's homeless shelter.


"Chiropractic adjustments can help in tremendous ways. Anything from treating neck pain, back pain and headaches to helping people sleep better, to function better and for overall health," Brian said.


The Beards perform chiropractic adjustments at the Bethlehem House one time a week either on Monday evenings or Thursday afternoons. According to Merissa, "We wanted to make sure we could get the people who live there and the ones just coming in at night." This accommodates residents who work late shifts.


The couple are seeking additional places to give back to Conway by doing adjustments and giving classes on health and nutrition.


Judi Lively, executive director of Bethlehem House said, "Frequently the people we serve have been sleeping in a tent, in a car or on a couch. Many of them suffer with pain silently.

Chiropractic adjustment can make a huge difference in how they feel both physically and mentally. Having free access to chiropractor care is a wonderful treat and our residents and the people we serve through our outreach program look forward to visits from the Drs. Beard. I am so very thankful for the care of Merissa and Brian. They are using their talents to improve the lives of the homeless and hungry!"


Bethlehem House is a transitional shelter in Conway that seeks to encourage, equip and motivate homeless and nearly homeless individu¬als and families to take the necessary steps to improve their life situations. For more information or to help, visit bethlehemhouse.net.