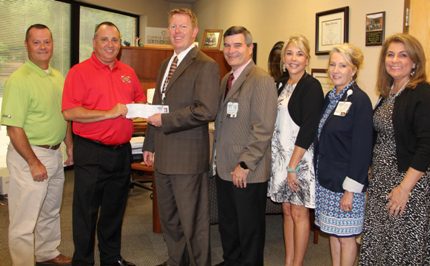 08 Aug 2016

Centennial Bank donates $20,000 to Conway Regional

Posted at 12:33 PMh

in

News

Centennial Bank recently presented a $20,000 donation to the Conway Regional Health Foundation.


Bob Leffert, vice president of business development, and Greg Sanson, division president of Centennial Bank locations in Conway, north central Arkansas and Alabama presented the donation, which will go toward various health care projects at Conway Regional Health System.


Accepting the donation on behalf of Conway Regional were Matt Troup, president and CEO; Steve Rose, chief financial officer; Lori Ross Scroggin, chief development officer and corporate director of marketing and foundation; Dot Welch, associate director of the health foundation; and Marla Hambuchen, special projects coordinator for the foundation.


Centennial Bank is a long-time supporter of Conway Regional.