27 May 2020

Celebrations: Finding creative ways to mark milestones

by Brittany Gilbert

Celebration and quarantine seem like an oxymoron; however, there are still so many reasons to celebrate. Birthdays still happen, students are still working hard and graduating from school, babies are being born and some weddings are still taking place. Life definitely goes on, even in a pandemic, and people are worth celebrating.

I reached out to several friends who had reasons to celebrate and asked for advice. I asked basic questions about how they celebrated, what the planning process was like, what they thought went well, what they would change and what advice they would give other families who are planning a celebration during social distancing.
Birthday parades are really popular right now, and I spoke with several people who have organized one for a child. These work best when they are planned in advance, so that friends and family can be prepared. One friend even said they were sure to let their neighborhood know ahead of time what they were planning so they would know that cars would be honking their horns and making more noise than normal. It's really fun when you decorate your car or have posters that you wave from windows.
As for treats and presents, don't feel pressured to do any of that; however, depending on your level of comfort, you have a few options if you want to include them. You can buy or make homemade treats and then have them individually wrapped. Bakeries in your town should be able to individually wrap or package treats if you don't want to do it yourself. Just be prepared that it will cost extra.
For presents, you could have a table set up to receive gifts, but you could also create a "registry" or wish list from places like Amazon, and friends and family can have the gifts sent directly to you.
The fun thing about a parade is that if you plan it carefully, it can be a really fun surprise. Another surprise is a yard sign. These are a big hit and a great addition to any celebration. Wingding Signs and Sign Gypsies-Vilonia are great local businesses that can customize an impressive sign to surprise and celebrate any age or occasion. I've seen signs lately for birthdays and graduations.
Other than a parade and a fun sign, most people are just trying to fill their child or loved one's day with special activities, food and a party atmosphere. What I've learned from asking friends is that the details made the day important. Decorate the house and surprise them with balloons and streamers and themed fun cups and plates. Make or buy their favorite food and make the day all about them. Invite friends and family to celebrate via Zoom, and have them sing "Happy Birthday" if it's a birthday celebration. Some even mentioned going on a special hike or scavenger hunt as part of the day's festivities.
Some events have been planned way before the pandemic hit. Brides have been looking forward to their wedding day for a long time, and the response to having to change their plans has been mixed. Some opted to postpone, wanting to keep the plans they've worked so hard on, so they just moved to a different date so everyone on their guest list could attend. Others have chosen to roll with the new limitations placed on them. One friend decided to keep their original wedding date, but instead of a larger crowd, they had a very small, intimate ceremony with family. Instead of a reception, they had takeout. Instead of a beach honeymoon, they stayed local. Getting married was most important, so they decided to have a small ceremony now and something bigger when they can.
The goal of any celebration is to make someone feel loved and special, and in these times, it's probably more important than ever. When you get creative, you can still have big moments. Churches around the area have gone out of their way to create drive-thru experiences for graduates with balloon arches and photo-ops.
Photographers around town are doing porch sessions, so not only did we have one come out to capture our family and new house, but we also made sure to snap our recent kindergarten graduate in a cap and gown, and a special picture of our daughter dancing with her dad because our church's father/daughter dance was cancelled.
Again, the whole point is to celebrate our loved ones and make them feel special. You can agree to throw a big party when everything is back to normal, but there are far too many ways to celebrate now.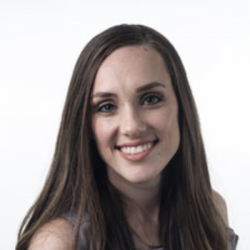 Latest posts by Brittany Gilbert
(see all)