Nov 22, 2019

Celebrating the season: Williams enjoys cooking and singing

by Kiera Oluokun

Whether you are being engaged by his wit, his cooking or his singing, Marvin Williams is bound to grab your attention in more ways than one. Cooking up signature holiday favorites, spending time with family and worshipping the birth of Christ are ways that Marvin brings in the holiday season. 

Marvin, a native of Osceola (Mississippi County), moved to the 501 in 1990 to attend the University of Central Arkansas. He has called it home ever since. 

Marvin said that the holiday season for him means worshipping and being around family. "Being a Christian, the faith is all about Jesus being born and dying for our sins, but hardly ever do you sing those types of songs that actually focus on His birth until the holidays. I like being able to pull out the hymn book and sing songs that have to do with the birth of Christ." 

In 2016, Marvin recorded a Christmas album titled "Marvin Williams Celebrates the Prince of Peace." At the time, Marvin was a worship leader at his church. He said that he thought that it would be "neat" to write Christmas songs. "One Sunday I was sitting in church during the Christmas holiday. The song 'Prince of Peace' — the title of the album, the lyrics just started to come to me, and I started to write them down and it turned into a song. From there, I just kept writing."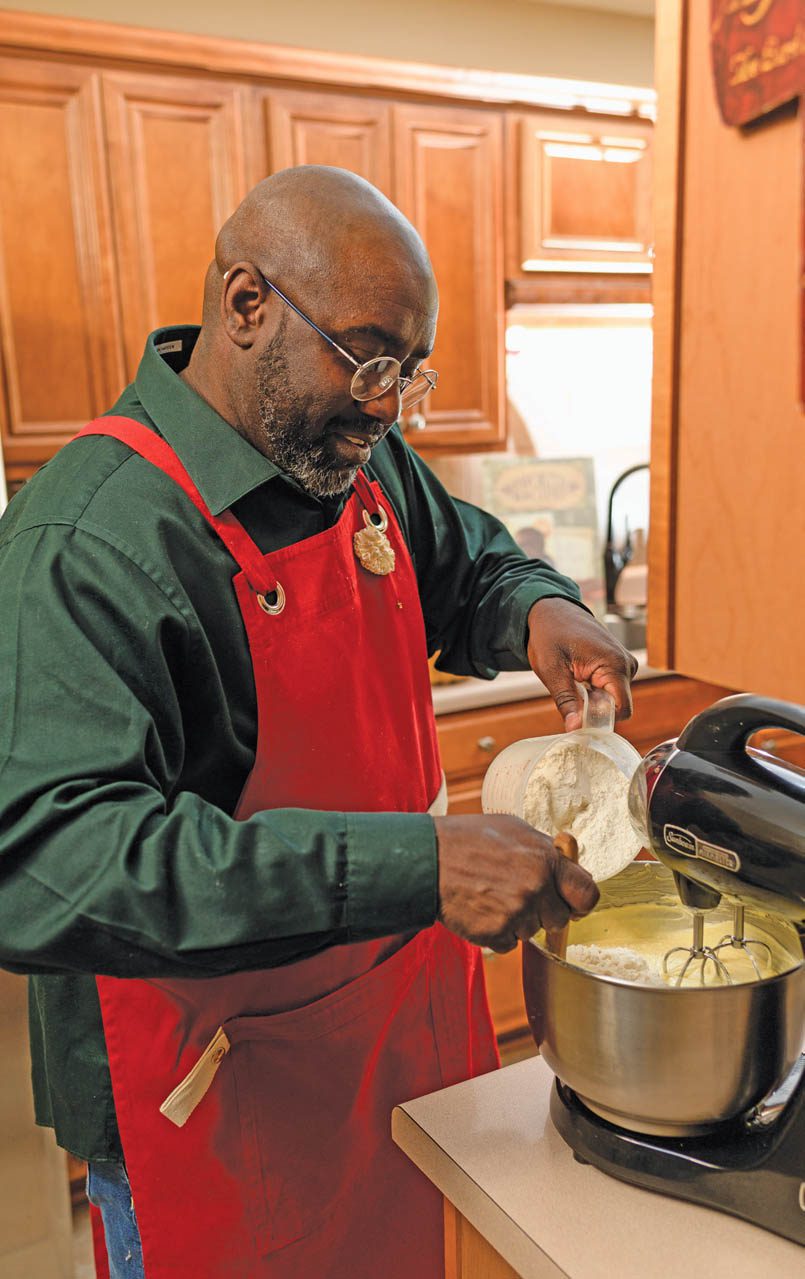 The Christmas album has a total of five songs along with poems and spoken word. His inspiration came from messages that he would hear and different ideas that he would have along the way, but mainly from the desire to write new Christmas music. Prior to the Christmas album, he recorded another album and a DVD of a performance of gospel songs called "Gospel Sing Night with Marvin Williams." All of Marvin's music can be found on iTunes or any digital download store.
More notably, Marvin is known for his "old school gospel" songs that he performs for his Gospel Sing Nights and his Facebook followers. "That's what I really love to do — those old school gospel songs and hymns that you don't really hear that much of anymore."
Marvin has even turned his passion for performing gospel songs and hymns into an opportunity to give back to his community. The proceeds from Gospel Sing Nights go to a local nonprofit or ministry. This year, Marvin presented $575.10 checks to the Pine Street Backpack Program and Renewal Ranch. "I decided to bless those two local organizations with the proceeds and people were so generous with their offering. In that one night, we raised over $1,000."
Marvin only holds the sing nights once a year, but people have been encouraging him to put on more. "I thought about possibly doing a spring and a fall event, but if not, I am definitely going to make it an annual event and every year the proceeds from the offering will go to benefit some local organization."
Not only does this time of the year serve as an opportunity for Marvin to sing his favorite Christmas songs and celebrate the birth of Christ, there is also personal significance.  "Honestly, I can think of one tradition that is the most special to me." He and his wife, Pearlie, celebrate their wedding anniversary on Dec. 2. Marvin recalled the church décor during the time of his wedding as being garnished in poinsettias — a traditional holiday arrangement. "Each year, we go out on Dec. 2 and leave work on our lunch break to go to some store and purchase an anniversary ornament to put on the tree." The couple has a book under the tree each year with a list of the ornaments that they own and which year they purchased each ornament. He hopes after 50 years of marriage that he and Pearlie can go through the book and reflect on the ornaments they have to commemorate each year.
Marvin's creative talent exceeds his voice. In 2013, Marvin made a post on Facebook about baked chicken he made for dinner and it went viral. This hit recipe was the catalyst for "Marvin Williams' Cooking Adventures Cookbook." 
Recently, Marvin posted a video of him cooking pork-fried rice and it is currently sitting at more than 400,000 views on Facebook. His page, Marvin Williams' Cooking Adventures, has more than 60,000 followers. Marvin's cookbook can be purchased at Mosaic Templars Cultural Center's Museum Store in Little Rock and will soon be available at The Kitchen Store in Conway.
The response from the cookbook has been so great, that Marvin is writing another one that will be available next fall. He refers to his recipes as a "guide" and urges his readers and followers to be creative and make the dishes their own.
Below are some of Marvin's favorite holiday recipes that he decided to share with the 501.
Butternut Squash Pie
2 1/2 cups of squash
1/2 stick of butter
Sugar to taste
2 eggs
1 heap of all-purpose flour
1/2  teaspoon of baking powder
1/2  cup of whole milk
Pinch of nutmeg
Splash of vanilla flavoring
Deep dish pie crust
Cool Whip
Preheat oven to 350 degrees. Warm the 2 1/2 cups of squash in the microwave. After removing the squash from the microwave, add 1/2 stick of butter and sugar to taste and mix with a hand mixer. After mixing, add the eggs, all-purpose flour, baking powder, milk, nutmeg, and vanilla flavoring into the squash mixture. Mix everything with the hand mixer until mixed thoroughly. After, take the mixture and pour it into a deep-dish pie crust to bake. Place pie in oven and bake 45-50 minutes or until it rises and sets. After, turn the broiler on low to brown the top of the pie before removing it. After removing the pie, add cool whip and serve.
Carrot Pie
1 pound of carrots
1/2 stick of butter
1 cup of sugar
2 eggs
1 heap of all-purpose flour
1/2 teaspoon of baking powder
Pinch of nutmeg
1/2 cup of skim milk
1 teaspoon of vanilla flavoring
1 pie crust
Preheat oven to 350 degrees. While oven is heating, peel and boil carrots until they are fork tender. Drain carrots and while they are hot, add butter and sugar and puree mixture in a food processor. Remove mixture from processor and add back to a bowl. Add eggs, flour, baking powder, nutmeg, skim milk and vanilla flavoring. Mix with hand mixer until smooth. Pour mixture into pie crust and bake for 45 minutes or until it rises and is slightly brown.
Cranberry Lemonade
1 can of frozen cranberry cocktail concentrate
1 can of frozen lemonade concentrate
3/4 cup of sugar
2 liters of Cranberry Sprite
Pour all of the ingredients together in the desired serving container. You can garnish with sprigs of lemon balm, sliced lemon and frozen cranberries.