31 Dec

Celebrating Athletic Excellence: Perry County's Amy Gruber Burgess

By Dr. Robert Reising

Born in Saint Paul, Minnesota, on Sept. 5, 1982, Amy enjoyed her cradle in Indian Hills in North Little Rock, Arkansas, nine months later. By 1987, she was proving herself capable in water, displaying an affinity for it that was never to disappear. Summer-league experiences yielded to those with a year-round club before, at age 12, she moved with her parents and her younger sister and younger brother into the home built for them on Wye Mountain. There, as a sixth-grader, she launched the seven years in Bigelow's schools that were to prepare her superbly for future academic and athletic success.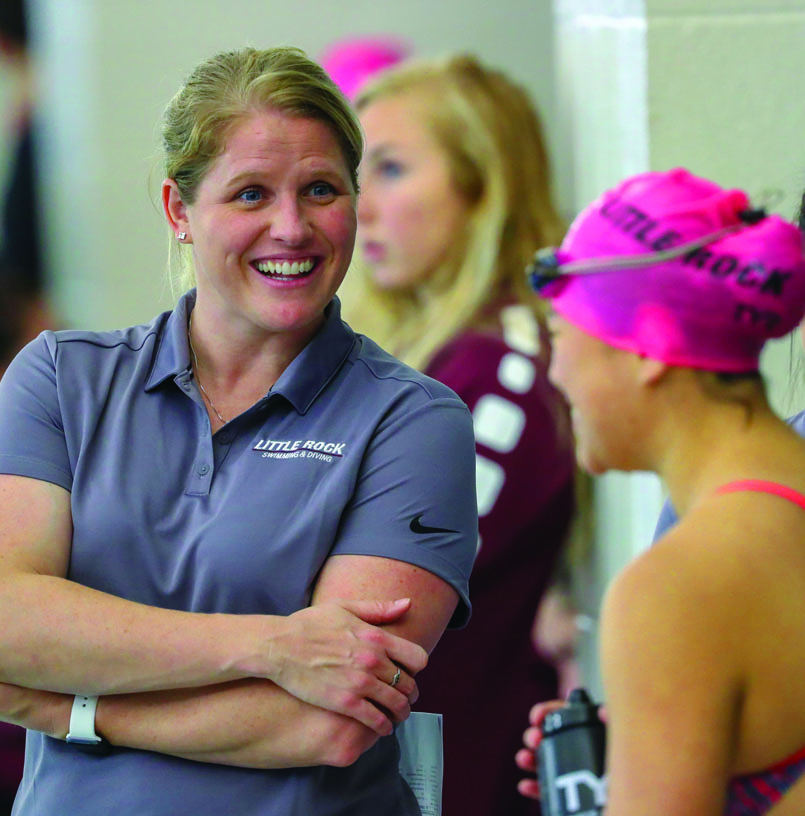 That preparation was ultra-busy. Included was participation in the Advanced Placement (AP) Program as well as in three sports other than swimming. She managed the football team and competed in softball and track.
Pulaski County, however, continued to play a key role in her athletic career. Because Bigelow had no pools, at 5 a.m. daily, Monday through Friday with precious few exceptions, Amy traveled down the mountain with her parents to Little Rock, over 35 miles away, to train before returning for school classes. Dr. Doug Adams, Perry County's superintendent of schools and a state-certified coach, served as her coach and was present at every meet in which she competed.
A more gratifying task never fell to a coach. Calling upon skills improved first by Conway's Hendrix Aquakids and later by the Little Rock's Arkansas Dolphins (LRAD), Amy dominated her state's opponents, every one of them. For four years, in grades nine through 12, she encountered no equal while setting three state high school records. Her wins totaled a sparkling 30.
In addition, club swimming frequently took her out of state to test foes in regional and national competitions; again, she fared handsomely. Multiple Top 8 finishes in both highlighted her achievements and were key in her selection for numerous awards, including the prestigious Heil Mile Award. Also key was the attention she earned on sports pages, and not in Arkansas alone. Amy was a nationally publicized and acclaimed student-athlete.
"With Honors" appeared on her Bigelow High diploma when she graduated in the spring of 2001. In her recent past were the five campus visits allowed to heavily recruited high schoolers. The flagship universities in Arkansas, Iowa, Kentucky, and Wisconsin all hosted her, but it was the University of Kansas that Impressed her most.
At KU, she continued the excellence that had typified her performances, academic as well as athletic, in "The Natural State." Four times she claimed the Jayhawk and the Big 12 Scholar Athlete awards. Four times she appeared on the Commissioner's List, the University of Kansas and the Kansas Athletic Director's Honor Rolls. She added the KU Senior Female Student/Athlete Award after the 2004-05 season.
Aquatically, she was no less impressive. Her avalanche of achievements began in her freshman year with the Newcomer of the Year award. Three times she was an NCAA qualifier in seven events, and twice she was a USA Swimming National Qualifier, once after claiming Central Sectional Championships in two events. She set six school records and continues to hold four Kansas All-Time Performance marks. In two Novembers, 2004 and 2005, she was named Big 12 Swimmer of the Month, and in the latter, National Swimmer of the Week by CollegeSwimming.com. From April of 2003 to March of 2004, she served as team captain, and in three seasons, she earned Most Valuable Player (MVP) honors.
Not surprisingly, Amy acquitted herself well in her final race as a Jayhawk. In Indianapolis in 2005, she was one victory away from the 2008 Olympic Qualifying University Games, but she lost by "just a fingertip," in Dr. Adams' words.
The photo-finish loss was disappointing but not discouraging. Her KU athletic eligibility behind her, Amy moved on to completing her course work and to earning her degree in journalism in 2006. Again, "Honors" embellished her diploma, thanks to a 3.4 grade-point average.
Amy's credentials as well as her respect for both swimming and education have led her to success in subsequent endeavors, and, since 2008, to her present post: head swimming and diving coach at the University of Arkansas at Little Rock. The married mother of two has taken the Missouri Valley Conference program to unprecedented heights in her 13 record-breaking seasons. Thus, not yet 40 years old, she has already earned a place in the Arkansas Swimming Hall of Fame and can look forward to adding more accolades in the decades ahead.
The professional whom Dr. Adams recently labled "wonderful, wonderful" has traveled an incalculable number of miles since her years as an unbeatable one-person team from Wye Mountain in Bigelow.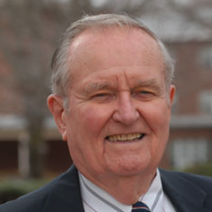 Latest posts by Bob Reising
(see all)