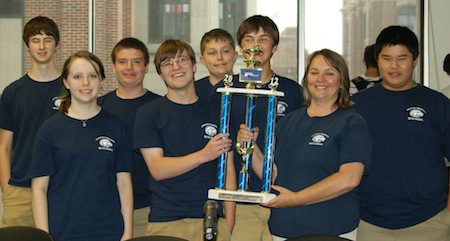 16 Jul 2012

CCS Junior High wins national Quiz Bowl championship

Posted at 5:55 PMh

in

News

by Molly Bowman


The question: "What does it take to be national Quiz Bowl champions?" Buzzer sounds. The Conway Christian Junior High quiz bowl team has the answer.

After just three years of competing, the team has claimed the national title as its own.


Conway Christian began a quiz bowl team after the school joined the Arkansas Activities Association in 2009.


Laura Shelton, high school English and drama teacher at Conway Christian, was a charter member of her school's first team when Arkansas began quiz bowl competitions in 1985. Knowing the value that this activity had on her high school experience, she approached the CCS administration about sponsoring a team.

"I loved quiz bowl when I began as a sophomore," said Shelton. "I knew that we had some great kids here that would be able to really compete well."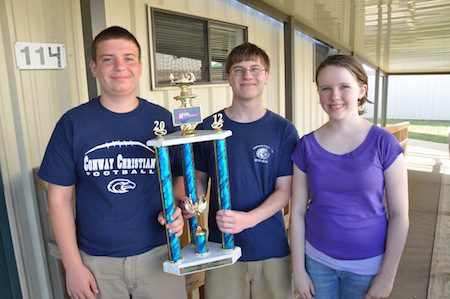 Because the majority of the quiz bowl participants at CCS are involved in other school activities, athletic practices and extracurricular events often demand their time in the afternoon. Due to this predicament, the students arrive to school 45 minutes early every Thursday to practice.

"The real key to quiz bowl is education outside of the classroom. There is not really a way to specifically study for it," said Shelton. "On Thursdays, we normally have time to run through one practice round before classes begin. This just gets the students used to the buzzer system and helps them learn each other's strengths and weaknesses."

Those early mornings of practice paid off. Over Memorial Day weekend, Conway Christian took all three of their teams to New Orleans for the 2012 National Quiz Bowl Tournament. On Saturday and Sunday, the teams played in six preliminary rounds. Of the six, the junior high team won four, propelling them into the single elimination final tournament on Monday.

The dynamic of the tournament quickly elevated when, during the quarterfinal game against Phillips Academy, CCS swept the round 510-195. "That was a huge confidence boost, and we just felt a feeling of favor," said Shelton.

That positive energy spilled over into the next competition as CCS successfully beat the New Orleans team, Jesuit High School, by another large margin. "Beating Jesuit was really satisfying because they had beaten us before," said team member Landon McDougal.

In the final round, Conway Christian faced Altamont, a team from Birmingham, Ala. While the game was a closer match than the two before, CCS came out on top, making them the first Christian school to win the National Quiz Bowl Championship title since the program began 30 years ago.

"The moment when I was most proud of our students was when the director of the tournament approached us and said, 'Thank you for showing that you can love Jesus and also be very smart.' They have always been great representatives for our school and for Christ," Shelton said.

But what is their key to gaining such success?
"You have to learn to work together as a group," said team member Jamie Guinea. "You can't be selfish. If you don't know the answer to a question, you need to know who would. Teamwork is really important. Plus, we have our own team genius."

The genius Jamie was referring to was Wesley Oliver, who was awarded the National MVP title. When putting together the team, the focus was not necessarily on who the most intelligent students in the school were, but rather, they looked for well-rounded, reliable team players. "If you have really smart kids, but don't have the team dynamic, it's going to be difficult," Shelton said. "But kids that support each other are going to make the best team."

Meet the national championship team (Name, specialty, grade):

Will Callaway, Math/Baseball, 8
Riley Holder, Music/Instruments, 9
Nicolas Lee, Science/Math, 8
Hunter Bryant, All-around, 7
Jamie Guinee, Literature, 7
Wesley Oliver, Geography, 9
Landon McDougal, Pop-culture/Mythology, 8