24 Jun 2020

CBC Alumni Spotlight: Bruce Andrews

Central Baptist College recently launched itssummer Alumni Spotlight Series title "Where Are You Now?" This year, the focus will be on Central Baptist College Athletic Hall of Famers, of which, ceremonies were conducted in 2010-13 and 2015.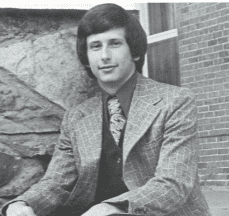 Today's spotlight shines on Bruce Andrews, a 2012 inductee.
Andrews attended CBC from 1974-1976, taking the classes he needed for his future accounting degree. While at CBC, he played basketball for fellow Hall of Famer Said Thomas. In his two seasons playing basketball, he was a post player, leading the team in scoring and rebounding as a sophomore in 1975-76, when he averaged a double-double and earned second-team All-Ozark Junior College Athletic Conference honors.
Andrews didn't have much basketball experience when he first came to CBC. "I didn't start playing basketball until 10th grade," Andrews said. "I played at Pulaski-Oak Grove (now Maumelle High School) and I didn't get any offers. My coach asked if I was interested in playing junior college ball (CBC was a junior college athletically at the time) and I told him I was. I wanted to continue playing basketball, but I didn't want to walk on. I toured the campus with Coach Thomas, loved it and he offered me a scholarship."
Andrews remembers two games vividly in his time at CBC. The first memory he recalled was a game in the 1974-75 season against East Arkansas College. The game was run-and-gun and Andrews ended up scoring a then-record 42 points in a game. That same year, in the regional tournament, Andrews recalled getting to play against Ron Brewer, when he attended West Arkansas Community College (now the University of Arkansas-Fort Smith), stating that Brewer "was a class above everyone else on the court as a player."
After his time at CBC, Andrews transferred to Ouachita Baptist University, where he played two more years of basketball. He remembered his time at CBC fondly: "The environment was incredible. I became a Christian at 15 and the environment for being away from home was perfect. It was a great place to grow up and be around faculty and staff that were committed to me. I met my wife at CBC and got a good education and a good background to finish my athletic and academic career at Ouachita."
When he enrolled at CBC, Andrews thought he wanted to be a math major. "After I got here, I took business courses and changed to accounting, and the two years I had accounting and business helped me complete my degree at OBU because I didn't have to repeat the courses." The degree launched him to a 30-plus year career in accounting, first for BKD in Little Rock and then 25-plus years at First Electric Co-op in Jacksonville, where he served as the CFO for 15 years before retiring in 2018.
Andrews added that CBC is a great environment for a first-time college student. "It's absolutely great for your personal development. The academics were as good as any other college and CBC is just as tough and challenging as any college. If you choose to immerse yourself in the culture and environment, you will never forget your time at CBC."
To see more stories about CBC hall of famers this summer, and other content involving Mustang athletics, like Central Baptist College Athletics on Facebook and follow @gocbcmustangs on Twitter and Instagram.