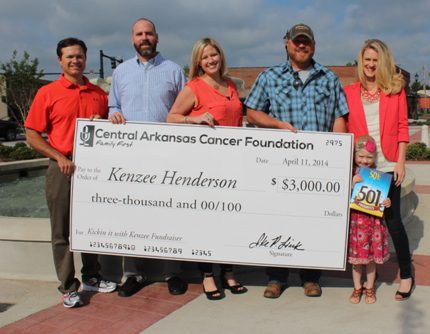 12 May

Cancer foundation helps family

The Central Arkansas Cancer Foundation presented a $3,000 check last week to the family of 4-year-old battling leukemia.

The amount represents the proceeds from the foundation's first fundraising event in April. The non-profit organization was created in March.


"The purpose of the event was to raise money to assist with the medical costs associated with cancer treatment for Kenzee Henderson of Damascus, who was diagnosed with A.L.L. (leukemia)," said organizer Ike Linck. "We were able to raise a total of $3,750."


A check for $3,000 was presented to Henderson. The remaining $750 will be donated to the Leukemia & Lymphoma Society.


The foundation plans to host the event annually, focusing on a different Central Arkansas Family each year. Those involved in organizing the event were Adam and Tracey Lamey, Cate and Sam Ketcheside, Joe Crowson, Marcus Bobbitt, Dustin Botsford, Brent Salter, Joe Kostecky, Spencer Clawson, Lori Hess, Toni Griffin and Lacey Duncan.


For more information on the cancer foundation, contact Linck at [email protected].