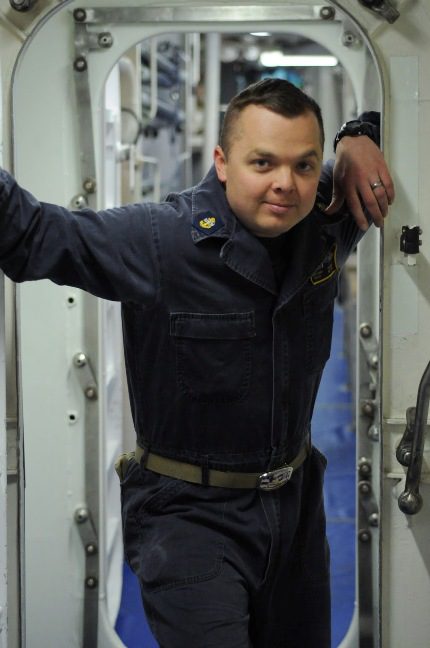 26 May 2016

Bradford native serves on guided missile destroyer

Posted at 1:38 PMh

in

News

by U.S. Navy Mass Communication Specialist 2nd Class Amanda Rae Moreno
Navy Office of Community Outreach Public Affairs


A 2002 Bradford High School graduate and Bradford (White County) native is serving in the U.S. Navy aboard the guided missile destroyer USS Carney.


Chief Petty Officer Eric Reed is a machinist's mate aboard the forward-deployed Arleigh Burke-class guided missile destroyer operating out of Rota, Spain. Carney is one of four destroyers home ported in Rota.


A Navy machinist's mate is responsible for fresh water systems, compressors, air conditioning, refrigeration, hydraulics and steering aboard the ship.


"As a chief, I enjoy teaching the sailors how to maintain the equipment we are responsible for," said Reed.


Commissioned in June 1996, the Carney measures approximately 500 feet and is powered by four gas turbines that allow the destroyer to achieve over 30 mph in open seas. It was named in honor of former Chief of Naval Operations Adm. Robert Carney.


This ship has been fitted with the Aegis ballistic missile defense (BMD) capability that enables it to conduct long-range surveillance, tracking and engagement of short and medium-range ballistic missiles.


According to Navy officials, destroyers are tactical, multi-mission, surface combatants capable of conducting anti-air warfare, anti-submarine warfare and anti-surface warfare, as well as humanitarian assistance. Fast, maneuverable and technically advanced, destroyers provide the required warfighting expertise and operational flexibility to execute any tasking overseas.


Assigned to the U.S. 6th Fleet, sailors are on watch throughout the European region and are important assets supporting the European Phased Adaptive Approach to enhance the security of that area of the world from ballistic missile threats originating in the Middle East.


In addition to Carney, three other BMD capable ships are forwarded deployed in Rota: USS Porter, USS Donald Cook and USS Ross. Having four destroyers based in Rota gives the U.S. 6th Fleet flexibility to send these ships to a variety of locations for a range of missions, while at the same time providing a large umbrella of protection for European allies.


Approximately 30 officers and 300 enlisted men and women make up the ship's company. Their jobs are highly specialized and keep each part of the cruiser running smoothly. The jobs range from washing dishes and preparing meals to maintaining engines and handling weaponry.


"I really enjoy working with a smaller crew," said Reed. "I came from an aircraft carrier, so being on a smaller ship is more like a family."


Challenging living conditions build strong fellowship among the crew, Navy officials explained. The crew is highly motivated, and quickly adapt to changing conditions. It is a busy life of specialized work, watches and drills.


As a member of one of the U.S. Navy's most relied upon assets, Reed explained that he and other Carney sailors know they are part of a legacy that will last beyond their lifetimes. "Service to my country is important to me," added Reed. "It's a great opportunity for my family and me to see the world and experience different cultures."