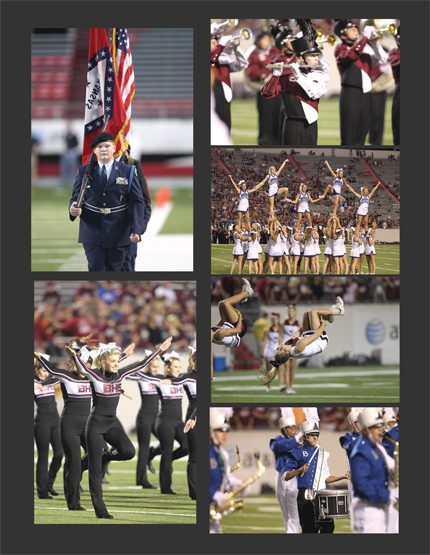 21 Sep

Bouncing back: Conway player returns to volleyball court

by Donna Lampkin Stephens


A year after putting her life on hold to focus on battling cancer, Conway's Sara Stovall is a symbol of triumph.


Stovall, a two-time all-state volleyball player for Conway's Lady Cats before graduating in May 2013, is finally on the volleyball court at Arkansas Tech this fall, albeit a year later than she'd planned.

After 12 rounds of chemotherapy and 12 rounds of radiation therapy to fight the Hodgkin's lymphoma that invaded her athletic body last summer, the 6-foot outside hitter has finally hit the court for the Golden Suns.


"I'm very excited, but it's also really scary because I haven't played in so long," she said in late August. "But it's great to get back into it and to get my skills back to where they were. It's a challenge, but it's going to be worth it."


After not being on the court competitively for about a year, she said she was very rusty.


"But I'm really lucky to be able to get back," said Stovall, who turned 20 on July 15. "There was not really a point I felt I couldn't come back, but there were really low points. But I kind of kept that in my mind as a goal to keep on going and pushing.


"I wanted to be with my team."


•••


Stovall had begun packing for her freshman year at Tech in mid-July 2013 when she awoke one night and felt a lump in her neck. Her parents, Curtis and Frankie Stovall, got her to their doctor, who ordered a CAT scan. Ultrasounds and biopsies eventually led to the cancer diagnosis.


According to mayoclinic.com, Hodgkin's lymphoma is a cancer of the lymphatic system — part of the immune system. Cells in the lymphatic system grow abnormally and may spread beyond it. The disease is treatable, and those diagnosed have the chance for a full recovery.


Stovall was diagnosed early, at Stage II, with tumors in her neck and toward her heart, which were easier to treat than those in the stomach, Frankie Stovall said.


Her initial treatment was chemotherapy every two weeks, which she did at Conway Hematology Oncology under the care of Dr. Sue Tsuda. Each treatment typically required five or six days of recovery afterward. She suffered nausea and hair loss as side effects but made the most of the latter, donating before starting the chemo about 12 inches of her brownish-blonde hair to Locks of Love, which provides hairpieces for children suffering from long-term medical hair loss from any diagnosis.


Curtis Stovall said the biggest complication was when his daughter's port became infected and she had to be hospitalized in December and again in January.


Tech allowed her to use her scholarship for online courses in psychology, sociology and criminal justice last fall while undergoing the chemo in Conway. She had already taken two Advanced Placement English classes and a college math course while at Conway High, so by the time she enrolled on campus in January 2014, she had earned 18 hours of college credit.


Besides taking 15 hours toward her major of psychology with a minor in criminal justice during the spring, Stovall also completed her last two chemo treatments and all 12 radiation treatments during her first semester on campus.


While living in the dorm, she did the radiation at St. Mary's Regional Medical Center at Russellville.


"It was way easier than the chemo," she said. "It just made you tired, but other than that, I'd go get my treatment, which took 30 minutes or so, and then go back to campus."


She finished the radiation in March.


Despite all the distractions, she finished her first year of college with a 3.89 GPA, earning a spot on the dean's list. Her only B came in a Social Problems class.


Her Arkansas Lottery scholarship became active when she enrolled on campus, and ATU held her volleyball scholarship for her for this fall.


But the Stovalls weren't sure she'd make it back to the court.


Curtis Stovall said in late August he wasn't sure how he would feel to see his daughter back on the court in Tech's home opener against Henderson State on Sept. 9.


"It's going to be really emotional," he said. "I think more so for me. My wife is able to control her emotions a lot better than I am. For both of us to see her back out there — it's just the end of a long road."


Stovall had her first post-treatment PET scan in mid-August. The results showed no active lymphoma cells in her body.


"It was clean, everything we'd hoped," Curtis Stovall said. "There was no sign of cancer at all."


She'll have scans about every six months for a while before the frequency decreases. But the treatment is over.


On Aug. 17, she moved into an on-campus apartment with three of her Golden Suns teammates, a day before fall practice began.

The Golden Suns opened their season Sept. 5 with the Midwestern State Invitational at Wichita Falls, Texas, before beginning Great American Conference play against Henderson State.


Stovall's story has been an inspiration for them.


"Last year, our players were able to see someone who had their dream of going to college and playing volleyball taken from them," Coach Kristen Bayer said. "They were able to see her physically and emotionally battle bac
k from this and join the team the second semester. Students can take for granted their opportunities of college and being an athlete, especially when things aren't perfect. Seeing Sara battle back from this, and not take anything for granted, was a great inspiration for our team.

"It goes to show that if, as a student athlete, you think you have it bad, look at someone, like Sara, who had everything taken from her, and she fought to get back here."

Tech won the GAC last year, reaching the NCAA Division II Volleyball Tournament, where the Golden Suns lost to Minnesota-Duluth in the opening round. They were chosen by the league's coaches as the preseason favorite to repeat in 2014.


And Stovall may well be a big part of the Suns' success.


"Sara has improved tremendously," Bayer said. "She has flourished here at Tech. She went from battling cancer six months ago to being a viable option in our starting rotation. She has been a symbol of strength and determination."

Tech won the GAC last year, reaching the NCAA Division II Volleyball Tournament, where the Golden Suns lost to Minnesota-Duluth in the opening round. They were chosen by the league's coaches as the preseason favorite to repeat in 2014.


Regardless of the result on the court, 2014 is far better for the Stovalls than 2013 was.


Frankie Stovall said her family was very grateful to everyone who rallied behind her daughter during the ordeal. Multiple entities, including the Conway High, Tech, Harding and University of Arkansas at Monticello volleyball programs; CHS Food Pro class; Dale Langford Marine Corps League, an organization of retired veterans; Rolling Thunder motorcycle group; and Advent Lutheran Church, did fundraising, which "kept us from having additional stress over bills," she said.


"Prayers, meals delivered by friends and all the overall family support was a blessing," Frankie Stovall said. "We hope that others in this situation will find the support, love and kindness our daughter did from our community."


Sara agreed she was not in her battle alone.


"I had plenty of backup," she said.