22 Jul 2010

Blessings come out of a 'terrible time'

Posted at 10:38 AM

in

Faith

The church's new sanctuary was about 80 percent complete when tornadoes struck Damascus, heavily damaging much of the area and destroying the church, fellowship hall and parsonage. However, Stephens said, with the difficulty came many blessings.

"Rik Sowell, who was our architect on our addition, allowed us free of charge to modify our drawings.," Stephens said. "Nailbenders for Jesus helped us with our addition, and it was destroyed. They had never had that happen before, so they came and helped us. Thirteen months wasn't long, considering what we had to do.

"There were parts that were nerve-wracking, wondering if you had enough money … but the Lord looked out for us. And to be honest, we never had to worry. The day we occupied our building, we were debt-free. It was a $2.7 million building. For a congregation our size (about 150 to 200), that was a miracle. The insurance paid off good. We had a builders' risk policy on our addition we were building. We had a lot of people donate money, donate labor.

"The Lord took care of us in ways I never could have imagined, and we give the Lord the credit, and all the people who helped us. To see what we were in and what we've got now, it's just night and day."

It was not only the community that assisted financially, Stephens added. Because of media attention on the tornadoes, many people became aware of the church. A man from Fort Worth donated a custom-made organ that had been built in the Netherlands.

"He had it shipped. We didn't have to pay a dime. From what I understand, it's the top of the line for organs," Stephens said.

He said one day a woman was driving past the church when she turned around and came back. She told one of the deacons standing outside the church that God had told her to help, and she donated all the money she had in her purse.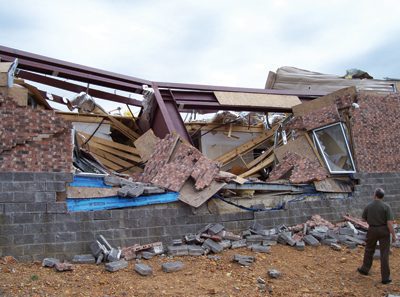 "Things like that happened again and again," Stephens said. "It has really given us a desire when other churches are in need to do what was done for us. People gave to help us, and we want to give to help others."
Members of Southside Baptist Church dedicated their new building on July 19, 2009, with more than 800 people in attendance.
"People came from everywhere to be a part of that. It was unbelievable," Stephens said.
The pastor knows not everyone who suffered loss from the tornadoes has been as fortunate as the church.
"There were other people who suffered a lot of loss. There were even a couple of lives lost. There were a lot of people besides us who suffered loss. In our situation, in all honesty, it ended up being a great blessing. Out of that terrible time, we were blessed."