12 Apr 2023

Bisons upset #13 Ouachita Baptist on Senior Day

The No. 49 ranked Harding men's tennis team came back from a 3-1 deficit on Tuesday and defeated No. 13 ranked Ouachita Baptist 4-3 at the Elliott Tennis Complex. The win is the first ranked win of the season for the Bisons and the first ranked win since the Bisons defeated No. 24 ranked Drury on February 11, 2022.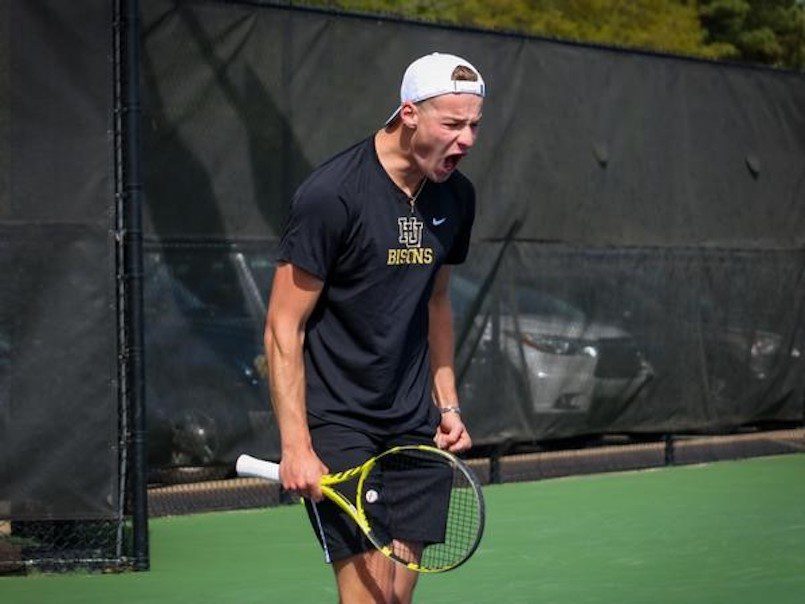 The Bisons now sit at 9-8 on the season and 1-1 in GAC play while Ouachita Baptist is 11-8 on the year and 2-1 in conference action.
In doubles action, the match began with two matchups of nationally ranked doubles teams. At No. 1, No. 11 ranked Cas de Ruiter and Cian Mikkelsen took down the No. 5 ranked doubles team of Alex Blanchar and Phil Exner in a tiebreaker, winning 7-6(4). Dani Ortiz and Teodor Zlatar, the No. 27 ranked duo, defeated the No. 37 ranked doubles pair 6-1.
After the Bisons pulled ahead after doubles action, the Tigers responded with three singles wins to lead 3-1 and put themselves one match away from the victory. Mikkelsen began the comeback for the Bisons, winning 6-4, 6-2 at No. 4.
De Ruiter followed that up with his 20th victory of the season, winning 7-5, 6-4 at No. 3 and tying the match at 3-3. Bryce Walker clinched the upset for the Bisons, dominating at the No. 6 line, taking the match 7-5, 6-0. 
The Bisons will close out the regular season tomorrow, April 14, when they travel to Durant, Okla., and take on Southeastern Oklahoma State, beginning at 11 a.m.