09 Nov 2022

Bisons start quick in exhibition loss at A-State

JONESBORO — Harding got off to a great start Monday night in an exhibition against NCAA Division I foe Arkansas State. The Bisons led by as many as nine points midway through the first half, but fell 86-55 to the Red Wolves at First National Bank Arena.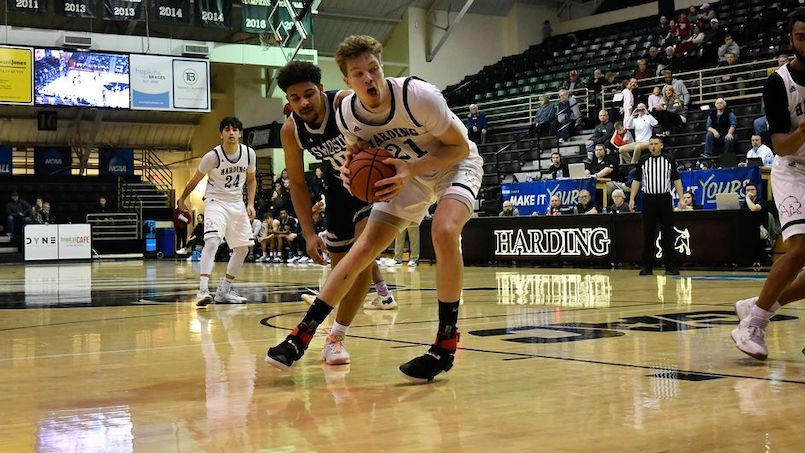 Harding led for the game's first 12 minutes. Consecutive 3-pointers from redshirt freshman Keyln McBride gave Harding a 14-7 lead with 12:10 remaining. A jumper in the lane from Rylie Marshall pushed Harding's advantage to 18-11, and Taylor Currie's shot in the paint moved Harding's lead to 23-14 with 8:00 left in the half, Harding's largest lead of the half.
Arkansas State outscored Harding 26-5 over the rest of the half, including a 15-0 run over a five-minute stretch. Sam Henderson's jumper from the wing ended that run at the 1:29 mark.
Arkansas State missed its first eight shots but made 16-of-25 over the rest of the half and shot 48.5% in the first 20 minutes. Harding was 11 of 27 (40.7%), connecting on one of its last nine.
The Red Wolves used two long scoring runs to take control of the game in the second half.
Arkansas State scored 12 straight points early in the second period and led 55-35. After a Rylie Marshall jumper for Harding, the Red Wolves then scored the next 21 points. Sam Henderson ended the run with a 3-pointer for the Bisons.
Currie and Henderson led Harding with 10 points each. Robert Chougkas, a transfer from Northwestern State, scored nine.
The Bisons shot 37.5% overall and made 6 of 19 3-pointers.
Harding's first regular season game is Friday, Nov. 11 at 9 a.m. in San Juan, Puerto Rico. The Bisons play Puerto Rico-Rio Piedras in the opener and Puerto Rico-Bayamon on Saturday, Nov. 12 at 12 p.m.
NOTE: Harding's starters were sophomore Matija Milivojevic, a transfer from South Georgia Technical College; junior J.T. Smith, a transfer from ASU Mid-South; fifth-year senior Ramiro Santiago; senior Sam Henderson; and junior Taylor Currie. Junior Stetson Smith, a returning starter from last season, missed the game due to an injury.