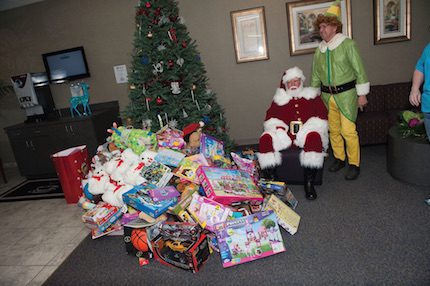 20 Nov

Bikers revving up for Conway Regional Toy Run

Bikers from throughout Arkansas will gather in Conway on Saturday, Dec. 20, for the 14th annual Conway Regional Toy Run.

The bikers will begin their line up at 10 a.m. at Landers Toad Suck Harley Davidson, 1110 Collier Drive off Museum Road in Conway. At noon, Santa will lead the way for a caravan of motorcycles, trikes and cages (cars) leaving the dealership for Conway Regional Medical Center, where they will deliver the toys.


About 250 people participated in the event last year despite inclement weather and higher attendance is expected this year.


"No child should be in the hospital at Christmas without a toy," said Toy Run organizer Steve "Painter" Polk, who has coordinated the Toy Run for the past 13 years.


"Each year the number of toys has grown to the point that it supplies our patients all year," said Jo Lynne Gasaway, RN, director of pediatrics.


The event includes live music at the dealership. The Joe Pitts Band, a rhythm and blues band, will play from 12:30 to 2 p.m.


The Toy Run collects a variety of toys for children who are patients in the pediatrics unit. The Run is no longer just for bikers; individuals are invited to drive cars or trucks. The only requirement is to bring a new, unwrapped toy for a child or youth 6 months to 16 years of age.


The event is family-oriented. "I encourage everyone to come out and bring their kids," Polk said. "We have fun while helping children."


Individuals who cannot attend the run can drop off toys at the Harley Davidson dealership.


To participate in the run, call Polk at 501.472.1628 or David Hawks at 501.450.0745. For more information check out http://www.facebook.com/ConwayRegionalToyRun.