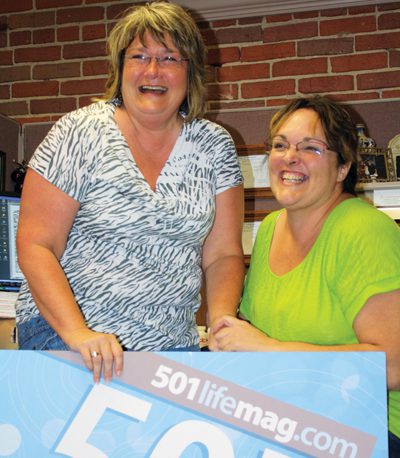 29 Sep 2010

Best friends selected for 501 prize package

Posted at 5:37 PMh

in

News

"There were many deserving applicants," said 501 Publisher Donna Spears. "It was extremely difficult to select just one pair. We want to thank everyone who expressed interest in the makeover."

Sponsored by 501 Advertising and Publishing, the makeover includes a variety of health-related services as well as other amenities that will be made available to Peggy and Christina.

"It is the ultimate makeover," said 501 LIFE publisher Donna Spears. "We are not aware of any makeover offered in this area that compares with the services that will be available for these two individuals.

"It is going to be fabulous."

The prize package includes a total smile makeover, weight loss and fitness program, nutrition counseling, skincare and nearly anything else needed for a complete makeover.

In addition, winners will receive a personal trainer, massage, pedicure and manicure as well as clothing and accessories, flowers, a limo ride and dinner for two to celebrate their accomplishments.

Contest sponsors include Dalton Designer Smiles, 24/7 Fitness, US Compounding, Elan, Hurley Chiropractic, Harrington & Co., Walk This Way, Premier Designs Jewelry, Ye Olde Daisy Shoppe, Celebration Limo and Oak Street Bistro.

"We want to thank our sponsors for their generous support," Spears said. "This will be a life-changing experience for two individuals in need of some help."

Peggy and Christina met while volunteering at a local drug and alcohol rehabilitation facility. "We have been great friends ever since," Christina said.

"The road of friendship has actually placed us with the same employer (American Management Corporaton) in beautiful Conway," added Peggy.

Both women have completed physicals with their personal physicians and have met with Dr. Kyle Dalton to begin their smile makeover.

In their nominations, both women noted that their youngest children had graduated from high school and "this is an opportunity to focus on us."

"We have sacrificed our dental health for the dental health of our children, between braces and broken bones, the funds for health care always went to the kids first. That's what mamma's do. We sacrifice," wrote Peggy.

Both women told the selection committee that they felt the contest was designed with them in mind. "We knew this contest was for us when we read about it, bringing to mind one day when we were not counting how many teeth we lost, but how many teeth we had left," the two wrote in their nomination. "We love to smile, we love life, we are energetic and young, although our bodies tend to disagree…We are both healthy, pleasantly fluffy and would love to get back in shape."

501 LIFE will report on the duo's progress in the magazine and on www.501lifemag.com, with updates also posted on Facebook. A "big reveal" will be held sometime during the first quarter of 2011.