31 Aug

Author of the Month: Cassidy Kendall

By Susan L. Peterson

Want to do something fun and unique? Amazing experiences can be found right in our own backyard of Hot Springs. In the newly published "100 Things to Do in Hot Springs Before You Die" (Reedy Press, May 2022), Cassidy Kendall provides a list of experiences that will either delight your taste buds, give you the chance to do something extreme, or provide wild or relaxing encounters.

Cassidy, who grew up in Camden (Ouachita County), credits her grandparents for introducing her to Hot Springs. She and her two sisters loved spending summer vacations with them on the lake.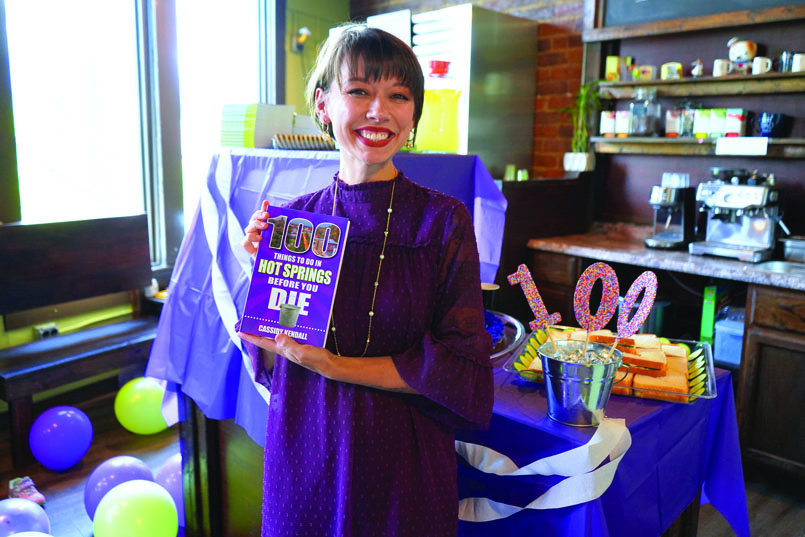 Although she liked writing in school, she didn't know she wanted to make a career from it. After enrolling at the University of Central Arkansas in 2015, an advisor suggested she look into the program, and it turned out to be a great fit. She graduated in December of 2018 with a degree in print journalism and a minor in creative writing.
Following graduation, Cassidy immediately relocated to the city she loved and began working as a journalist for the Sentinel-Record. In 2021 she left the newspaper and began The Hot Springs Post, an online media outlet that provides regular local news updates at thehotspringspost.com.
In June of 2021, St. Louis-based Reedy Press was actively looking for someone to write a book about Hot Springs to expand its "Things to Do Before You Die" series. Cassidy landed the job with the option of completing the book's delivery in either six or twelve months. She chose six and admits she procrastinated a bit the first three months. But the hardest part was choosing what to exclude from the list, since there were so many options.
Her expansive listing has something for everyone, complete with helpful tips. Foodies will enjoy recommendations for breweries, burgers, and brunch. Shopping enthusiasts will revel in options such as handmade pottery, markets, specialized stores, and boutiques. For nature lovers, there is Garvan Woodland Gardens and a myriad of trails. And getting around is fun, too! You can rent a pontoon boat or bicycle, or take a romantic horse-drawn carriage ride.
In addition to the attractions Hot Springs is known for, such as Bathhouse Row, the Mountain Tower, and Mid-America Science Museum, there are oddities like Tiny Town and the Gangster Museum. The Machine Gun Grotto, an indoor firing range, is guaranteed to get your adrenaline pumping.
One thing Cassidy loves about Hot Springs is how the city transforms itself for various holidays. Halloween, Christmas and St. Patrick's Day, which featured the 19th Annual World's Shortest St. Patrick's Day Parade this spring, are a few examples.
And Cassidy's favorite? It's hard to list just one. She is a big fan of the Hot Springs Documentary Film Festival and its nine days of festivities, which will take place October 7-15. She also adores Magic Springs, especially in August, after most kids start school. Then there's Wednesday Night Poetry, a downtown gathering that has taken place each week since 1989. The list goes on.
At age 25, Cassidy is still new in her career. As she continues to work and play in Hot Springs, she plans to put her degree to good use by continuing to produce news and feature stories for journalism and other media. She recently founded Kendall Communications and is expanding her client pool.
"100 Things to Do in Hot Springs Before You Die" may be purchased online at Amazon, at local book stores, or from thehotspringspost.com, where Cassidy Kendall can also be contacted regarding availability to speak to groups.
Latest posts by Susan Peterson
(see all)