05 Nov 2023

Author of the Month: Carl J. Barger

By Susan L. Peterson

When Carl J. Barger retired in 2004 after working 38 years in public schools in Arkansas, he finally found time to write. He now has seven books under his belt, the most recent of which is "Where There's a Will, There's a Way" (May 2023). It is a memoir of his experiences as one of 11 children growing up in Cleburne County, his career in public education and his strong friendships and family ties.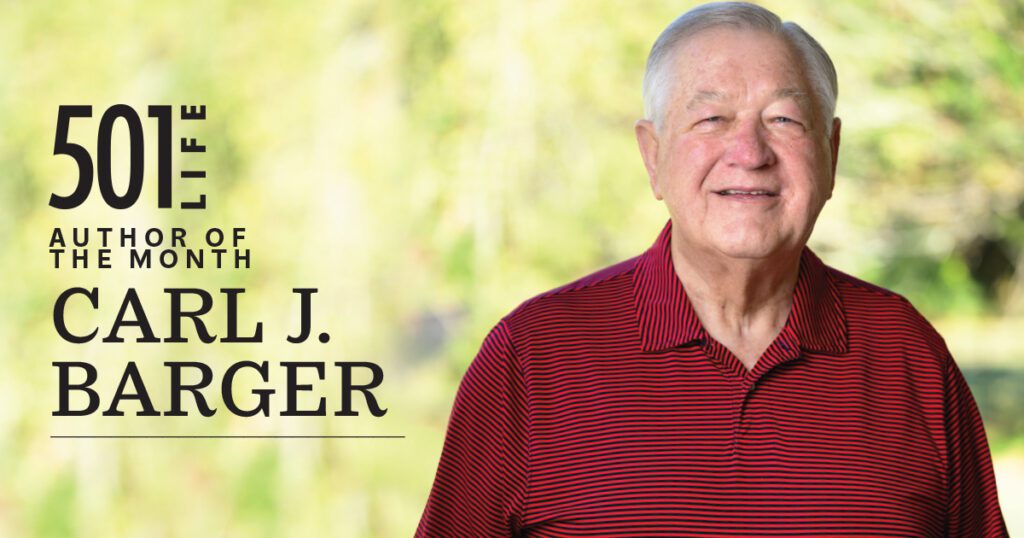 Times were tough for the Barger family in the early and mid-1900s. Although they owned land in Higden, the family traveled annually over the span of 10 years to pick fruit in Michigan and cotton in South Arkansas to supplement their income. Barger was 5 years old when his mother made him a burlap sack to pick cotton.
The youngest of six boys, Barger was the first in his family to attend college. He graduated from Arkansas Tech College in 1966 and took a job as a teacher and basketball coach. A mere five years later at age 25, he became superintendent at McNeil in Columbia County, the youngest in the state's history. Subsequently, he took superintendent positions in Emerson, Nashville, Bentonville and Warren until his retirement in 2001. He came out of retirement to become superintendent at the Arkansas School for the Deaf in Little Rock for two years.
Barger published his first book, "Swords and Plowshares," in 2004. The family saga traces his great-grandfather throughout Tennessee and Missouri during the Civil War era. He spent innumerable hours online and searching public records to find personal information and to verify and expand his knowledge of this era.
His second book was "Mamie: An Ozark Mountain Girl of Courage" (2005), a tribute to his mother, who demonstrated strength and resilience during hard times. Reviewers of the book remarked on the accuracy of time and place and how the story helped them to recollect their own childhood.
Barger next wrote "Dark Clouds Over Alabama: A Story of Struggles and Triumphs in the Old South" (2013) and its sequel "Blue Skies of El Dorado" (2016). This fact-based, pre-Civil War love story centers on Obadiah Bradford, a plantation owner in Alabama, who fell in love with a young slave, Penelope. Again, Barger meticulously explored records in Alabama and Arkansas that led him to discover that the couple married and relocated to El Dorado, Arkansas, the setting for the follow-up story, "Blue Skies of El Dorado."
In "Arkansas Hillbilly: One Man's Memoir of a Blessed Life" (2017), Barger shares personal details of his relationship with God, his formative years, marriage, adoption of two children, then the birth of a biological child. Using his research skills, he was able to locate his children's biological parents, a promise he once made to them.
Civil War records, personal letters and genealogy searches played an important part in Barger's "Sons of War" (2019), the story of his great-grandfather and uncles who emigrated from Germany in the 1800s to become pioneers in Missouri. They joined the Missouri 26th Infantry during the Civil War. Barger also wrote and published two historical books: "Cleburne County and Its People, Vol 1 and 2."
Barger has indeed led a blessed, sweet life. After receiving his degree at Arkansas Tech, he earned his master's degree in education at UCA and his administrator degree from the University of Arkansas. Even in retirement, he continued to serve others as a member of the Conway School District School Board from 2007-2017. He is a passionate supporter of their athletic teams and attends as many games as possible.
Barger and his wife, Lena, have been married for 59 years. They have three children and seven grandchildren who must feel very fortunate to have such detailed family chronicles. History was always interesting to him, and writing about it comes naturally. He says he has the ability to read something and then the scenario and words just start to flow. He is quick to point out that his books are historically accurate, but the dialogue and situations mostly arise from his vivid imagination. Barger also mentioned that he hopes his personal story will motivate others who are struggling and want to escape poverty. He knows that hard work, determination and the right support can lead to a better life. And, as his father once told him, "Don't give up."
If you have a nostalgic longing for the old South or life in rural Arkansas, Barger's books may help rekindle that feeling. They can be purchased from Amazon and other online booksellers or from his website, sbpra.com/CarlJBarger. He is available for book talks or other events.
Latest posts by Susan Peterson
(see all)