20 Jul 2019

Author hopes to help others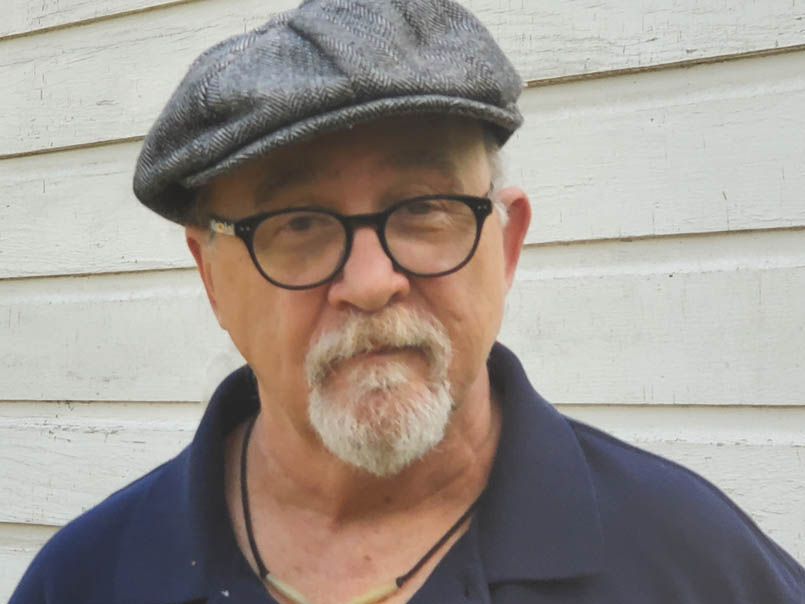 by Susan Peterson
Mark Johnson is in a "good place" now in his life, thanks in part to his writing.
Mark, who uses the pen name of A.J. Shaw, is the author of "Caught in a Web."
Although his book is an autobiographical tale of "remorse, anger, pain, suffering and guilt" that resulted from his descent into addiction, it is also uplifting because it is a story of survival.
Mark entered Narcotics Anonymous 22 years ago, and he proudly states that he has been clean since. He first became ensnared in drugs in the late 1960s when it seemed they were everywhere. They helped him get through his time in the military. "That was way before they did drug tests," he said. His abusive childhood and health problems (migraine headaches, PTSD) were also contributing factors.
In his memoir, which he published in 2013, he relates how his adult life was plagued with misfortune. Things were looking up when he met his wife, Julie, in 1979. They soon had a daughter, Riannon, who was born with spina bifida. The marriage eventually failed, and Mark remarried and had three other daughters. Although Riannon never walked, she attained a 4.0 GPA despite a doctor's prediction that she would not survive. At age 17, Riannon forecast her own death, and she tragically died in Mark's arms following a freak accident six months after making her prediction. 
Now in his 60s, Mark has made peace with his former life, and he tries to draw strength from his struggles. He credits the love of his daughters, and his strong faith. But he also feels that writing his memoir helped him to relieve a lot of stress and to put everything in perspective. Mark says his writing now helps take him to a better place, and he writes for the sheer pleasure of it.
He has many more ideas for future books. A follow up to "Caught in a Web," appropriately titled "Hanging by a Thread," will soon be published and will continue from the time the original story ended in 2003.
He is currently working on a drama titled "The Branches," a colorful tale that draws from characters and locations from his childhood in Faulkner County. It is a fictional story about two brothers who idolize their father, a World War II veteran.
Because he loves to travel, Mark wants to write about some of his adventures, including a drive far into Canada to meet family and his many visits to Ireland and Scotland. The Scottish connection is especially meaningful since his mother was from Edinburgh. He chose his pen name because of its Scottish derivation.
Mark's writing has garnered acclaim. The National Association of Book Entrepreneurs (NABE) designated "Caught in a Web" as a Pinnacle Book Achievement Award in the category of Best Memoir category in 2014. In April, he was invited to the L.A. Times Festival of Books in Los Angeles. 
"Caught in a Web" is available from Amazon and Barnes and Noble.
Mark freed himself from addiction and hopes that his story will help others who have felt despair to know they are not alone and that help can be found.
Latest posts by Susan Peterson
(see all)